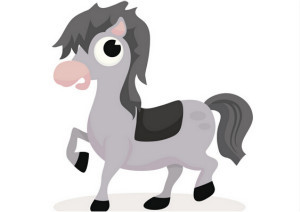 * The prediction is valid for 2017 (
year of the Rooster
) starting from January 28, 2017 and lasting to February 15, 2018.
Overall Rating:
You Horse people will have mixed fortune in the year of the Fire Rooster 'Ding You' (丁酉). Due to the blessing of several auspicious stars, you will have good luck in general; under the influence of inauspicious stars like Wugui (五鬼), however, you may have problems in interpersonal relationship and health. On the whole, you Horses will have big changes in fortune and you need be ready for the ups and downs. In this year, you should adjust your mental state and be optimistic in the face of failures to learn a lesson, but you will solve the problems readily with the help of others. You should not be complacent in the face of success; otherwise, you may be framed by villains once you are not careful and bring obstacles and losses to your work and life.
Please click for more details about
2017 Predictions for Horse
2017 Horoscope Forecast for Horses Born in Different Years:
1966 Horse
(between January 21, 1966 and February 08, 1967)
1978 Horse
(between February 07, 1978 and January 27, 1979)
1990 Horse
(between January 27, 1990 and February 14, 1991)
2017 Horoscope Predictions for Other Signs:
* The prediction is valid for 2018 (
year of the Dog
) starting from February 16, 2018 and lasting to February 4, 2019.
Since Dog and Horse are in one of the Four Compatible Groups, you Horse people will have a harmonious relationship with Tai Sui which is the Grand Commander of the Year and get its support in 2018, the year of Wood Dog 'Wu Xu' (戊戌). You will see many opportunities for development and your power and fame will get further promoted due to the blessing of the auspicious star 'Jiang Xing' (将星). Another auspicious star 'Tian Chu' (天厨) in charge of salary will benefit you workers but it also symbolizes indolence, so you may have expensive tastes in this year. You need to know that your luck will be unstable and you should not seek comfort, or you will be deeply troubled under the impact of inauspicious stars. It's necessary to keep an eye on the serious impact of many inauspicious stars which will harm your wealth and health.
Please click for more details about
2018 Predictions for Horse
* The prediction is valid for 2016 starting from February 8, 2016 and lasting to January 27, 2017.

Yearly Horoscope for 2016: Average

Overview:
Fortune for the Horse people will be smooth and steady in 2016 which is
year of the Monkey
. The year especially favors those Horses who usually go outing. So, if you have chances to go out for business or stay abroad for work, try your best to grasp the opportunity. During the year, your status and rights are expected to rise. Thus you would have more time spending on social activities. In love relationship, you may start a long-distance relationship. The singles are suggested to keep your eyes on the people around when traveling or go outing. If you can participate in more festive events, your fortune would be much better. Besides, you should also prepare for a busy 2016 and many challenges are waiting you.
Please click for more details about
2016 Horoscope for Horse