Page Navigation

Chinese Zodiac - Horse
Horse has an indomitable spirit and is always moving toward a goal. It ranks the seventh in the Chinese Zodiac. People born under the sign of the Horse are clever, active, energetic, quick-witted, fashionable, agile, popular among others and have the ability to persuade others. On the other side, they might be some selfish, arrogant and over-confident.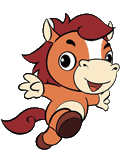 Basic Astrology Elements
Earthly Branch of Birth Year: Wu
The Five Elements: Fire (Huo)
Yin Yang: Yang ([Chinese philosophy] positive/active/male principle in nature)
Lucky Numbers: 2, 3, 7; Avoid 1, 5, 6
Lucky Flowers: calla lily, jasmine, marigold
Lucky Colors: brown, yellow, purple, red; Avoid: blue, white, golden
| Start Date | End Date | Associated Element | Heavenly Branch |
| --- | --- | --- | --- |
| 01/30/1930 | 02/16/1931 | Yang Metal | Geng Wu |
| 02/15/1942 | 02/04/1943 | Yang Water | Ren Wu |
| 02/03/1954 | 01/23/1955 | Yang Wood | Jia Wu |
| 01/21/1966 | 02/08/1967 | Yang Fire | Bing Wu |
| 02/07/1978 | 01/27/1979 | Yang Earth | Wu Wu |
| 01/27/1990 | 02/14/1991 | Yang Metal | Geng Wu |
| 02/12/2002 | 01/31/2003 | Yang Water | Ren Wu |
| 01/31/2014 | 02/18/2015 | Yang Wood | Jia Wu |
| 02/17/2026 | 02/05/2027 | Yang Fire | Bing Wu |
People born in the year of the Horse are fiery, warm-hearted and generous. There are always plenty of friends around them as they are good at getting along with others. But they are not good at keeping secrets. They prefer social activities because of which, there are usually too many overheads preventing them from saving up money.
Open-minded and positive are strong points for the person under the sign of the Horse, but the drawback is that he/she often can not insist on doing things from the beginning to the end. Although showing positive attitude at the beginning, they are easy to give up once encounter small obstacles. Due to this reason, they are usually thought to be lack of responsibility. Most of them like to leave away from home to struggle for their career in youth. So they are easily to succeed when they are young but begin to encounter failure from the middle age.
In love, the Horse person is straightforward and focuses much on appearance. So they are always attractive. However, due to their never-lasting character trait, they usually couldn't go long with their mates. Also in work, although they have excellent physical conditioning, they couldn't get great success because of such characters. Please click for more about
Horse Personality Traits
.
The Horse people of different elements also have different personalities and fortune:
Click the following links to get personalities and horoscope for the five types of Horse.
→
Metal Horse
: 1990 (Jan. 27, 1990 - Feb. 14, 1991)
→
Earth Horse
: 1978 (Feb. 07, 1978 - Jan. 27, 1979)
→
Fire Horse
: 1966 (Jan. 21, 1966 - Feb. 08, 1967)
→
Wood Horse
: 1954 (Jan. 31, 1954 - Feb. 17, 1955) or 2014 (Jan.28, 2014 - Feb. 15, 2015)
→
Water Horse
: 1942 (Feb. 15, 1942 - Feb. 04, 1943) or 2002 (Feb. 12, 2002 - Jan. 31, 2003)
Best Match: Tiger, Sheep, Dog
Find your compatible zodiac signs according to your month:
| Birth Month of the Horse | Personality of the Horse | Girl's Match | Boy's Match |
| --- | --- | --- | --- |
| Jan. | strong-minded | Pig | Ox |
| Feb. | magnanimous; broad-minded | Dog | Rat |
| Mar. | full of dreams | Ox | Monkey |
| Apr. | outgoing; active | Snake | Sheep |
| May. | having a good head for maths | Rat | Rat |
| Jun. | attractive | Monkey | Sheep |
| Jul. | kind-hearted | Dog | Rabbit |
| Aug. | lacking of great popularity | Dog | Snake |
| Sep. | be loyal to one's friends | Rabbit | Rat |
| Oct. | scrupulous; careful | Ox | Tiger |
| Nov. | be satisfied with the present | Sheep | Horse |
| Dec. | impulsive | Pig | Rat |
► Horse Yearly Horoscope

2017 Yearly Horoscope Predictions
* The prediction is valid for 2017 starting from January 28, 2017 and lasting to February 15, 2018.

Overview: You Horse people will have mixed fortune in the year of the Fire Rooster 'Ding You'. Due to the blessing of several auspicious stars, you will have good luck in general; under the influence of inauspicious stars like Wugui, however, you may have problems in interpersonal relationship and health. On the whole, you Horses will have big changes in fortune and you need be ready for the ups and downs. In this year, you should adjust your mental state and be optimistic in the face of failures to learn a lesson, but you will solve the problems readily with the help of others. You should not be complacent in the face of success; otherwise, you may be framed by villains once you are not careful and bring obstacles and losses to your work and life. Find out what's in store for your sign for 2017 in money, career, love relationship and health, please click:→ Horse Horoscope 2017 Predictions

You may also want to know Horse horoscope in the next year. Please click: → Horse Horoscope 2018 Predictions
Horse's Fate by Birth Time
The birth time of people plays a very important role in terms of whether the destiny is auspicious or not. People under the Horse sign born in different time periods will have different characters and fate. Those who were born and will be born between 01:00-03:00, 11:00-13:00 and 13:00-15:00 are the most auspicious.

Best Birth Dates
The Horse people born in the 2nd, 6th, 9th, 10th, 13th, 14th, 19th, 20th, 29th or the 30th day in Chinese lunar calendar are usually blessed with good luck and fortune during the whole life.

Best Birth Months
In general, January, February, March, July and August are auspicious birth months for the Horse people.
January: Although silent and speak little, the Horses born during January are popular among friends. This is usually because they are men of good character and their deeds could accord with words. Life for them is full of joys and happiness.
February: The Horse people born in February are honest, upright and extraordinarily bright. They could usually enjoy a free and simple life.
March: The Horses born in March are quite spunky and usually could achieve things before anyone else. Besides, they are usually praised by neighbors and receive great respect from others.
July: Tender, gentle and full of vigor, the Horses born during July can usually get benefactor assistance during their life. Everything falls into their lap. They have less worry and could live a peacefully and happily.
August: For those Horses born in August, they are endowed with civil and martial virtues. Their technical ability is exceptional. Also, they are quick witted and bold to get success in career.

Note: The months here refer to the Chinese lunar month. Please use the Gregorian-Chinese Calendar Converter tool on Chinese calendar page to find the Chinese lunar month.
The people under the animal sign of Horse are fit to efficient works instead of simple and monotonous ones. E.g. Journalists, translators, salesmen, and securities traders would be perfect. Also, the Horse people have their qualities to be an artist. The ability to adjust to the changing circumstances also enables them to be a good statesman or critics. The Horses could do some active and positive jobs like an athlete. To those naturally confident Horses, they are suitable to be an adventurer, architect or entertainer and in those works they could get great achievements.
When selecting a Chinese name for the people born in the year of Horse, there are some dos and don'ts you need to know which are based on the characters of the Horse, zodiac compatibility and Chinese five element theories. Let's take a look at what are good and auspicious names for the male and female Horses.
→
Auspicious Chinese Names for the Horse Year People
2018 horse year predictions (1 Reply) Asked by chiventleung | 7/12/2017 10:09:50 PM
2002 water horse (3 Replies) Asked by Sureent | 6/7/2017 3:59:08 AM
Metal horse 07/08/1990 Fire Rat 25/11/1996 compatibility (1 Reply) Asked by Flavio | 5/18/2017 4:51:46 PM
fire horse (4 Replies) Asked by theresa | 5/3/2017 6:50:17 PM
What years since 1920 are fire horse years? (1 Reply) Asked by Holly gornik | 4/25/2017 12:43:13 AM