Page Navigation

Chinese Zodiac - Rooster (Chicken)
According to the Chinese zodiac, 2017 is the year of Rooster (Fire Rooster) starting from January 28, 2017 (called the Lunar Chinese New Year or
Chinese Spring Festival
) and lasting to February 15, 2018.
Rooster (or Chicken) ranks the tenth among the Chinese zodiac animals. In Chinese culture, Rooster represents fidelity and punctuality, for it wakes people up on time. People born in the year of the Rooster are beautiful, kind-hearted, hard-working, courageous, independent, humorous and honest. They like to keep home neat and organized. On the other side, they might be arrogant, self-aggrandizing, persuasive to others and wild as well as admire things or persons blindly.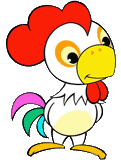 Basic Astrology Elements
Earthly Branch of Birth Year: You
The Five Elements
:
Metal
(Jin)
Yin Yang: Yin ([Chinese philosophy] negative/passive/female principle in nature)
Lucky Numbers
: 5, 7, 8; Avoid: 1, 3, 9
Lucky Flowers: gladiola, impatiens, cockscomb
Lucky Colors: golden, brown, brownish yellow, yellow; Avoid white, green
| Start Date | End Date | Associated Element | Heavenly Branch |
| --- | --- | --- | --- |
| 01/26/1933 | 02/13/1934 | Yin Water | Gui You |
| 02/13/1945 | 02/01/1946 | Yin Wood | Yi You |
| 01/31/1957 | 02/17/1958 | Yin Fire | Ding You |
| 02/17/1969 | 02/05/1970 | Yin Earth | Ji You |
| 02/05/1981 | 01/24/1982 | Yin Metal | Xin You |
| 01/23/1993 | 02/09/1994 | Yin Water | Gui You |
| 02/09/2005 | 01/28/2006 | Yin Wood | Yi You |
| 01/28/2017 | 02/15/2018 | Yin Fire | Ding You |
| 02/13/2029 | 02/02/2030 | Yin Earth | Ji You |
The rooster is the dawn announcer waking people up on time in the morning. Since the ancient times, it has been thought to have the ability of divining the future. Also in Greek mythology, it is said that the rooster can feel what will happen in the future. So, it is regarded as the god's ambassador. The people born in the year of the rooster also have the ability to discern what is coming. They like to think more and have a good plan when dealing with things. Also, they usually use in ways others could never have imagined to solve problems which making others surprise.

The people under the Rooster sign are warm, generous, diligent, sociable and very capable speakers. They have quick wit and think fast. So sometimes they are impatient. When talking, they may stammer as their mouth couldn't catch up with the brain. To change this, they need to think slowly. The men born in the year of the rooster usually pay great attention on his appearance. They dress well no matter in casual clothes or suit. The women also are beautifully dressed with a variety of colors. As they attach great importance to the attire, they look upon with disapproval to those who dress casually and don't like to communicate with them. Therefore, they usually leave an impression of coldness to others. Please click for more about Rooster Personality Traits.

The Rooster people of different elements also have different personalities and fortune:

Click the following links to get personalities and horoscope for the five types of Rooster.
→ Metal Rooster: 1981 (Feb. 05, 1981 - Jan. 24, 1982)
→ Earth Rooster: 1969 (Feb. 17, 1969 - Feb. 05, 1970)
→ Fire Rooster: 1957 (Jan. 31, 1957 - Feb. 17, 1958) and 2017 (Jan.28, 2017 - Feb. 15, 2018)
→ Wood Rooster: 1945 (Feb. 13, 1945 - Feb. 01, 1946) and 2005 (Feb.09, 2005 - Jan. 28, 2006)
→ Water Rooster: 1933 (Jan. 26, 1933 - Feb. 13, 1934) and 1993 (Jan. 23, 1993 - Feb. 09, 1994)
Best Match: Ox, Dragon, Snake
Worst Match: Rat, Rabbit, Rooster, Dog
→ Please click for more about Rooster Compatibility.

Find your compatible zodiac signs according to your month:
| Birth Month of the Rooster | Personality of the Rooster | Girl's Match | Boy's Match |
| --- | --- | --- | --- |
| Jan. | alert | Dog | Horse |
| Feb. | freedom-loving | Dragon | Rat |
| Mar. | righteous; right-minded | Dragon | Rabbit |
| Apr. | cheerful and carefree | Sheep | Snake |
| May. | industrious and practical | Snake | Dog |
| Jun. | sensitive | Tiger | Rabbit |
| Jul. | impetuous; impatient | Ox | Horse |
| Aug. | Laissez-faire | Tiger | Monkey |
| Sep. | having a bravura of execution | Monkey | Pig |
| Oct. | virtuous and sincere | Snake | Dragon |
| Nov. | pure and lovely | Horse | Dragon |
| Dec. | provocative | Pig | Dog |
► Rooster Yearly Horoscope

2017 Yearly Horoscope Predictions
* The prediction is valid for 2017 starting from January 28, 2017 and lasting to February 15, 2018.
Overview: 2017 is the year of the Fire Rooster 'Ding You' (丁酉), also the animal year (
Ben Ming Nian
) of you people under the zodiac sign of Rooster. In this year, you Roosters will suffer from conflicting Tai Sui while you Roosters will be more unlucky since your earthly branch 'You' will torture the earthly branch 'You' of Tai Sui, which means you will have fortune change due to conflicting Tai Sui and suffer from punishment of Tai-Sui. Therefore, you Roosters will be unlikely to have good luck in the year of 2017. Your fortune in various aspects will not have a significant improvement; instead, you will be prone to have all kinds of misfortunes. In a word, you should be prepared for the great change in life in 2017. Find out what's in store for your sign for 2017 in money, career, love relationship and health, please click:
→
Rooster Horoscope 2017 Predictions
→
2017 Feng Shui Tips and Cures
- Flying Star Chart, Three Killings, Grand Duke and Year Breaker Star
You may also want to know Rooster horoscope in the next year. Please click: →
Rooster Horoscope 2018 Predictions
2017 Yearly Horoscope for Rooster Born in Different Years
►
2017 Monthly Horoscope
Find out what 2017 will be for the rooster people in each month? Please click
2017 Monthly Horoscope Prediction for the Roosters
Rooster's Fate by Birth Time
The birth time of people plays a very important role in terms of whether the destiny is auspicious or not. People under the Rooster sign born in different time periods will have different characters and fate. Those who were born and will be born between 07:00-09:00, 11:00-13:00, 15:00-17:00 and 21:00-23:00 are most auspicious.

Best Birth Dates
The Roosters born in the 4th, 5th, 6th, 15th, 17th, 19th, 21st, 23rd or the 26th day in Chinese lunar calendar are usually blessed with good luck and fortune during the whole life.

Best Birth Months
Auspicious birth months for the Roosters are February, March, April, August and September. Following are explanations about how lucky they are.
February: Born in February, they are blessed to enjoy a free and pleasant life. No matter in career or other aspects, they could achieve great success.
March: The Roosters born in March are pretty clever and could adjust to the changing circumstances. Their life would be glorious that bring prestige and honor to their families.
April: The Roosters born during April are optimistic by nature. Their fine business brain, intelligence, earnest and down-to-earth spirit enable them to own a prosperous business which is started from scratch.
August: Born in August, they are bold and crafty in character. Together with their strong will and wisdom, they could get a distinguished career and respected by others.
September: The Roosters born in September are capable, independent and pleasant in personality. They could have a good run for money. The life for them will be pleasant and comfortable.

Note: The months here refer to the Chinese lunar month. Please use the Gregorian-Chinese Calendar Converter tool on Chinese calendar page to find the Chinese lunar month.
The Rooster people are usually energetic and have a strong ability to deal with affaires. Most of them build their own careers in earlier days. Also in work, they are serious, talented and courageous. They hate to be ordered to do things. Based on these, suitable jobs for the Roosters include politicians, policemen, diplomats, sportsmen, dress designers and beauticians. Also, they are fit to show their ability in the fields of tourism and entertainment.
When selecting a Chinese name for the people born in the year of Rooster, there are some dos and don'ts you need to know which are based on the characters of the Rooster, zodiac compatibility and Chinese five element theories. Let's take a look at what are good and auspicious names for the male and female Roosters.
→
Auspicious Chinese Names for the Rooster