Monkey ranks ninth position in the Chinese Zodiac. They are cheerful and energetic by nature and usually represent flexibility. People under the sign of the Monkey are wise, intelligent, confident, charismatic, loyal, inventive and have leadership. The weaknesses of the Monkeys are being egotistical, arrogant, crafty, restless and snobbish.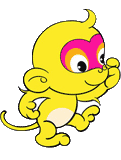 Basic Astrology Elements
Earthly Branch of Birth Year: Shen
The Five Elements: Metal (Jin)
Yin Yang: Yang ([Chinese philosophy] positive/active/male principle in nature)
Lucky Numbers: 1, 7, 8; Avoid: 2, 5, 9
Lucky Flowers: chrysanthemum
Lucky Colors: white, golden, blue; Avoid: red, black, grey, dark coffee
The monkey is a kind of wise and flexible creature, looks like the human most. The biologist Charles Darwin has written in his book On the Origin of Species that Humans are evolved from apes. So, the monkey can be as clever as the humans to some extent. You can also get this from the Monkey King, the main character in one of the four famous Chinese novels - Journey to the West. By using his wisdom, the Monkey King defeats the evil spirits and ghosts, helping his companions finish the journey to the West successfully.
The people born in the year of the monkey are of great intellects and skillful. They are usually good leaders. Quick and intelligent as they are, they can win prizes frequently from childhood, thus, often appreciated by parents and teachers. Besides, they are most in good physical conditions. Not only good in fortune when they are young, but also perfect after middle ages. As they are good at saving up money, they usually live lives without worrying about food and clothing.
The people under the sign of the monkey are sometimes a bit quick-tempered. This may hinder them from getting success. So, they should learn to be patient to overcome. They also like to project themselves to attract others. As they have extraordinary ability to distinguish between things, they can always make good decisions. In their families, they are usually considerate and thoughtful. Please click for more about
Monkey Personality Traits
.
The Monkey people of different elements also have different personalities and fortune:
Click the following links to get personalities and horoscope for the five types of Monkey.
→
Metal Monkey
: 1920 (Feb. 20, 1920 - Feb. 7, 1921) and 1980 (Feb. 16, 1980 - Feb. 4, 1981)
→
Water Monkey
: 1932 (Feb. 6, 1932 - Jan. 25, 1933) and 1992 (Feb. 4, 1992 - Jan. 22, 1993)
→
Fire Monkey
: 1956 (Feb. 12, 1956 - Jan. 30, 1957) and 2016 (Feb. 8, 2016 - Jan. 27, 2017)
→
Earth Monkey
: 1968 (Jan. 30, 1968 - Feb. 16, 1969)
→
Wood Monkey
: 1994 (Jan. 25, 1944 - Feb. 12, 1945) and 2004 (Jan. 22, 2004 - Feb. 8, 2005)
Best Match: Rat, Dragon, Snake
Worst Match: Tiger, Pig
→ Please click for more about Monkey Compatibility.

Find your compatible zodiac signs according to your month:
| Birth Month of the Monkey | Personality of the Monkey | Girl's Match | Boy's Match |
| --- | --- | --- | --- |
| Jan. | practical with decisive action | Sheep | Tiger |
| Feb. | optimistic | Snake | Rat |
| Mar. | having wide interests | Rat | Sheep |
| Apr. | positive | Rabbit | Ox |
| May. | discontent with the present situation | Snake | Horse |
| Jun. | to hot and cold with others | Sheep | Ox |
| Jul. | eloquent | Tiger | Horse |
| Aug. | mannered; well-behaved | Pig | Tiger |
| Sep. | diffident; lacking self-confidence | Horse | Rabbit |
| Oct. | energetic and active | Pig | Any |
| Nov. | having progressive spirit | Sheep | Sheep |
| Dec. | fun-loving | Rabbit | Horse |
► Monkey Yearly Horoscope
2018 Yearly Horoscope Predictions
* The prediction is valid for 2018 (
year of the Dog
) starting from February 16, 2018 and lasting to February 4, 2019.
→
Monkey Horoscope 2018 Predictions
2017 Yearly Horoscope Predictions
Monkey's Fate by Birth Time
The birth time of people plays a very important role in terms of whether the destiny is auspicious or not. People under the Monkey sign born in different time periods will have different characters and fate. Those who were born and will be born between 01:00AM - 03:00AM and 05:00AM - 07:00AM
are the most auspicious.
Best Birth Dates
The Monkeys born in the 1st, 5th, 9th, 10th, 14th, 25th, 26th or the 28th day are usually blessed with good luck and fortune during the entire life.
Best Birth Months
March, April, July and August are auspicious birth months for the Monkey people.
March:
The Monkey people born in March are extremely intelligent. They are usually popular among others, have a bright future, and also marry well and happily.
April: With the birth month of April, the Monkey people usually could enjoy a glorious life. During their life, they can usually do things at their will and lucky to get help from others. There is no problem of food, clothing and health for them.
July: Born in July, the Monkey people usually could enjoy a safe, free and easy life.
August:
The Monkeys born in August usually have boundless prospects. They could get great success in career. Besides, they have good moral character and usually could own a harmonious family.
Note:
The dates and months above are based on the Chinese lunar calendar. Please use the Gregorian-Chinese Calendar Converter tool on
Chinese calendar
page to find the corresponding day and month in western calendar.
The Monkey people like the challenge. Therefore, those exciting, speculative and challenging jobs are fit to them. Jobs such as professional sportsmen, stockbrokers, lawyer etc. are ideal ones for them. Besides, jobs like actors, writers, journalists and diplomats could give more room for them to show their ability. In addition, the Monkey are suitable to work in the industries of construction, real estate, hardware, household electrical appliance, catering trade, software, site management, E-commerce, insurance, banking and more.
When selecting a Chinese name for the people born in the year of Monkey, there are some dos and don'ts you need to know which are based on the characters of the Monkey, zodiac compatibility and Chinese five element theories. Let's take a look at what are good and auspicious names for the male and female Monkeys.
→
Auspicious Chinese Names for the Monkey