Page Navigation

Chinese Zodiac - Sheep (Goat/Ram)
Ranking the eighth position of all the animals in Chinese zodiac, Sheep (also Goat or Ram) represents solidarity, harmony and calmness. People born in the year of the Sheep are polite, mild mannered, shy, imaginative, determined and have good taste. On the negative side, they are sometimes pessimistic, unrealistic, short-sighted and slow in behavior.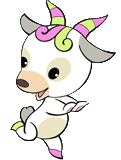 Basic Astrology Elements
Earthly Branch of Birth Year: Wei
The Five Elements: Earth (Tu)
Yin Yang: Yin ([Chinese philosophy] negative/passive/female principle in nature)
Lucky Numbers: 2, 7; Avoid: 3, 8
Lucky Flowers: carnation, primrose, alice flower
Lucky Colors: green, red, purple; Avoid: golden, coffee
| Start Date | End Date | Associated Element | Heavenly Branch |
| --- | --- | --- | --- |
| 02/17/1931 | 02/05/1932 | Yin Metal | Xin Wei |
| 02/05/1943 | 01/24/1944 | Yin Water | Gui Wei |
| 01/24/1955 | 02/11/1956 | Yin Wood | Yi Wei |
| 02/09/1967 | 01/29/1968 | Yin Fire | Ding Wei |
| 01/28/1979 | 02/15/1980 | Yin Earth | Ji Wei |
| 02/15/1991 | 02/03/1992 | Yin Metal | Xin Wei |
| 02/01/2003 | 01/21/2004 | Yin Water | Gui Wei |
| 02/19/2015 | 02/07/2016 | Yin Wood | Yi Wei |
| 02/06/2027 | 01/25/2028 | Yin Fire | Ding Wei |
Like the rabbit, the sheep is also a kind of docile animals. They have low combat effectiveness and ask for nothing but live with the green grass peacefully. So, they are usually attacked by other animals. In the flock, they observe the discipline of the leader sheep well and hold the leader in the greatest esteem. Due to these, Jesus hailed himself as 'a Good Shepherd'.

The sheep are mild and close with the human. Especially in the Middle East, the people rely on the sheep to survive greatly. The sheep can coexist with the humans peacefully and migrate with them on grassland. So they have remarkable endurance and assiduous spirit. These are also the characters of the people born in the year of the sheep. Beside, the sheep people have a strong vitality. There is an iron will and enterprising spirit underlying their soft and fluffy façade. When dealing with tasks, they are not impulsive but always considerate, analyze carefully and complete satisfactorily. In interpersonal relationship, as they are gentle and cultivated, they are liked by others. In terms of business, they are always wonderful hands. But sometimes, things can be made terrible because of their strong heart.

The people under the sheep sign are most flexible and have bright body. The men may look like sissy. While, the women are with a devilish charm to the opposite sex, as they are mostly beautiful, plump, clear in skin and slim in waist. Please click for more about Sheep Personality Traits.

The Sheep people of different elements also have different personalities and fortune:
Click the following links to get personalities and horoscope for the five types of Sheep.
→ Earth Sheep: 1919 (Feb. 1, 1919 - Feb. 19, 1920) and 1979 (Jan. 28, 1979 - Feb. 15, 1980)
→ Metal Sheep: 1931 (Feb. 17, 1931 - Feb. 5, 1932) and 1991 (Feb. 15, 1991 - Feb. 3, 1992)
→ Water Sheep: 1943 (Feb. 5, 1943 - Jan. 24, 1944) and 2003 (Feb. 2, 2003 - Jan. 21, 2004)
→ Wood Sheep: 1955 (Jan. 24, 1955 - Feb. 11, 1956) and 2015 (Feb. 19, 2015 - Feb. 7, 2016)
→ Fire Sheep: 1967 (Feb. 9, 1967 - Jan. 29, 1968)

Best Match: Rabbit, Horse, Pig
Worst Match: Rat, Ox, Dog, Dragon
→ Please click for more about Sheep Compatibility.

Find your compatible zodiac signs according to your month.
| Birth Month of the Sheep | Personality of the Sheep | Girl's Match | Boy's Match |
| --- | --- | --- | --- |
| Jan. | easy to miss the opportunity | Snake | Rabbit |
| Feb. | optimistic | Tiger | Tiger |
| Mar. | silent; uncommunicative | Horse | Horse |
| Apr. | thoughtful | Dragon | Rooster |
| May. | sensitive | Monkey | Dog |
| Jun. | sophisticated | Ox | Rat |
| Jul. | honest and hard-working | Rabbit | Sheep |
| Aug. | graceful | Rat | Dragon |
| Sep. | earnest | Ox | Horse |
| Oct. | calm; unimpassioned | Tiger | Horse |
| Nov. | eloquent | Horse | Tiger |
| Dec. | kind-hearted | Any | Any |
► Sheep Yearly Horoscope

2018 Yearly Horoscope Predictions
* The prediction is valid for 2018 (year of the Dog) starting from February 16, 2018 and lasting to February 4, 2019.
→ Sheep Horoscope 2018 Predictions

Note: In year 2018, the people born under the Sheep sign will suffer from Destruction of Tai Sui 破太岁, a kind of Fan Tai Sui. Click the link to get cures: → Chinese Zodiac 'Fan Tai Sui' with Remedies

2017 Yearly Horoscope Predictions
* The prediction is valid for 2017 starting from January 28, 2017 and lasting to February 15, 2018.
→ Sheep Horoscope 2017 Predictions

2017/2018 Yearly Horoscope for Sheep Born in Different Years
→ Horoscope Forecast for the Sheep Born in 1967 (between February 09, 1967 and January 29, 1968)
→ Horoscope Forecast for the Sheep Born in 1979 (between January 28, 1979 and February 15, 1980)
→ Horoscope Forecast for the Sheep Born in 1991 (between February 15, 1991 and February 03, 1992)

► 2017/2018 Monthly Horoscope
Find out what 2017/2018 will be for the Sheep in each month? Please click 2017/2018 Monthly Horoscope Predictions for the Sheep
Sheep 's Fate by Birth Time
The birth time of people plays a very important role in terms of whether the destiny is auspicious or not. People under the Sheep sign born in different time periods will have different characters and fate. Those who were born and will be born between 01:00-03:00, 05:00-07:00 and 11:00-13:00 are the most auspicious.

Best Birth Dates
The Sheep people born in the 4th, 7th, 12th, 13th, 14th, 28th, 29th or the 30th day in Chinese lunar calendar are usually blessed with good luck and fortune during the whole life.

Best Birth Months
The Sheep people born in March, May, June or July could enjoy a good fortune and luck in various aspects.
March: The Sheep people born in March are remarkable intelligent. They are lucky in finance, good in health and almost everything is auspicious for them. They could get both fame and gain in life.
May: The Sheep born during the Chinese lunar month of May usually enjoy a good wealth and have a strong power. They are down to earth kind of person and mostly strong willed. For every affairs they promise to do for others, they will try best to achieve. Thus, they are respected by others and have the ability to command a large of people. Almost everything turns out as they wish.
June: Enthusiastic, loyal and honest, the Sheep born in June usually have a prosperous and flourishing family. In life, they are faithful in their word and could cherish the same ideals and follow the same path with the coworkers. Especially during the later life, they could enjoy a happy life.
July: The Sheep born in July are examples of bravery and wisdom. They have a sharp will and good luck. Everything is as their wishes. They usually could keep feet on the ground and can accomplish big undertaking.
Note:
The months here refer to the Chinese lunar month. Please use the Gregorian-Chinese Calendar Converter tool at the
Chinese calendar
page to find out your Chinese lunar birth month.
Nice and considerate, the Sheep people are fit to do some service works. So, to be a nurse or household management service person is a good choice. Engage in artistic works, eg. to be an actor, a painter, a musician, a dancer etc. are also good choices. Besides, typists and teachers are usually favored works by the Sheep. Lack of the spirit of adventure, the people under the Sheep sign are not fit to do those highly competitive works such as investing in stocks, commodities trading, journalism and more.
When selecting a Chinese name for the people born in the year of Sheep, there are some dos and don'ts you need to know which are based on the characters of the Sheep, zodiac compatibility and Chinese five element theories. Let's take a look at what are good and auspicious names for the male and female Sheep.
→
Auspicious Chinese Names for the Sheep