Note: The horoscope prediction is for people born between February 5, 1981 and January 24, 1982. If you were born before February 5, 1981, your Chinese zodiac sign is Monkey. Please consult
2016 Chinese Zodiac Horoscope for the Monkey Born in 1980
.
The prediction is valid for 2017 which is from January 28, 2017 to February 15, 2018.
Overview
At present, you Roosters born in 1981 are at the most difficult moment in your life. In short, there are old and young at home requiring you to work hard to keep the stable family life and you should constantly face the trivia problems in family and career. In particular, you people born in 1981 under the animal sign of Rooster will have big hidden troubles in fortune since 2017 is your animal year, so you will have fortune changes caused by conflicting Tai Sui (the Grand Duke Jupiter) and suffer from possible accidents and troubles in the whole year. In addition, you need to make more efforts and be more determined for the implementation of your plans.
Career
You Roosters born in 1981 will have quite strange career fortune in 2017. To be simple, the development in other places will be admirably suited for you, for example, you may take a business trip to other places or develop your business in other places. Due to the influence of conflicting Tai Sui, you Roosters will find it's very difficult to develop the original business and will easily encounter the bottleneck, so a new start in other places will be the best solution. This year will be beneficial for you Roosters engaged in trading, transportation and logistics industry. You will be framed by hidden villains; hence you should be prudent in daily life and never easily offend others, so as to avoid revenge.
Wealth
Due to the great limitations in overall career fortune, you Roosters will experience ups and downs in wealth. For you Roosters born in 1981, you will have stable income from work but poor luck in windfalls. That is to say, you will have no problem in making money from your career but will fail and play ducks and drakes with your investment if you want to cut corners or make great fortune overnight.
Love Relationship
Maybe it's because you Roosters born in 1981 are in the golden period of marriage with your husband/wife, the firm relationship between you will not be affected by the fact of torturing Tai Sui in terms of earthly branch even if there are some problems in your marriage caused by conflicting Tai Sui. Of course, it doesn't mean you can utter a sigh of relief; instead, you should learn to handle all kinds of possible accidents in life calmly and avoid the mood change, through which you can keep the stable and long-term relationship. You single Roosters will have more opportunities to go out for development or travel, thus you can grasp the opportunities to start a relationship in other places or on the journey. As the saying goes, a happy event can counteract three disasters, you Roosters in love may solve the negative impact of animal year if you choose to get married in this year; however, you should choose a lucky day rather than treat it carelessly.
Health
Although you are in the prime of life, the bad luck will bring you poor health and you will be prone to minor illness, so you should pay special attention to dietetic hygiene in daily life to avoid diseases. In addition, you should pay close attention to traffic safety due to the influence of inauspicious stars. Lunar February, August and November should deserve your most attention in terms of health and safety. In Lunar April, you Roosters should take precautions against marine risk. If you female Roosters get pregnant and have a baby in the animal year, you can balance the negative influence and promote your luck but you should be careful during pregnancy and pay special attention to healthy diet; never eat the food you shouldn't eat, so as to avoid abortion and other accidents.
Remedy:
As 2017 is your
Ben Ming Nian
, you'd better wear red such as red belt, shoes, socks, insoles, clothes and underwear to improve fortune and avoid bad luck.
The prediction is valid for 2016 which is from February 8, 2016 to January 27, 2017.
2016 Lucky Astrology Elements for the Rooster People Born in 1981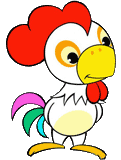 Lucky Numbers: 0, 9
Auspicious Direction: West
Lucky Colors: White, Silver, Light-grey
Overview
Generally speaking, for you rooster people born in 1981, 2016 (
year of the monkey
) will be a year favors you too much in all aspects. Your career will go forward steadily and your high working efficiency will be recognized by boss. The year also favors those who want to set up own business especially during the second half of the year. Besides, your star for love seems very much in the ascendant. No matter you are single or married; you could enjoy a good luck in love. If you have married but have no children, to have a baby would bring more good luck to you. So long as you change your stubborn and impulsive personality, all things will go smoothly in 2016.
Career
You are expected to get praise and appreciation from leaders in work. So, you may be promoted or get a salary increase during 2016. The most important factor deciding if you could get success in career is whether your personal relationship is good or not. Therefore, extend your network and circle of friends will be helpful to your work or career. If you own a business or just want to start your own business, there will be a significant turning point in 2016. You are expected to get help from close friends making the business more prosperous. The auspicious months for your work and business are February, April, June, August, November and December of Chinese lunar calendar. In Gregorian calendar, they are: Mar. 9 – Apr. 6, May 7 – Jun. 4, Jul. 1 – Aug 2, and Nov. 29, 2016 – Jan. 27, 2017.
Wealth
In finance, you could have a good run for your money in 2016. For you businessmen, you will be lucky to get help in business from a savior. But it's not suggested to over expand your business during the year. Instead, you should try best to decrease expenditure. If you want to have your own business or engage in artistic field, there will be many good chances in the year that making you earn much. The workers are also expected to get salary increase and enjoy a good fringe benefit.
Love Relationship
If you are a single man, you may meet your love who may be a little older than you in 2016. You could own a sweet love relationship so long as you don't caret the age gap. If you are a single woman, you may meet your love in friend's wedding ceremony. For you married couples, you may have a tense relation with your partner. You are easy to get bad-tempered which is usually caused by your stressful job. So, you are suggested to care more about him/her and avoid quarrelling for trifles.
Health
The physical condition will be generally fine in 2016 for you Roosters born in 1981. But you still need to pay much attention to your health. During the first half of the year, you are easy to suffer insomnia or respiratory diseases. While the second part of the year, you should avoid head injury or limbs damaging. So, be careful when doing exercises or driving especially if you have the hobby of playing basketball, badminton or tennis. Besides, drinking too much or having too many late nights should be avoided in the year.