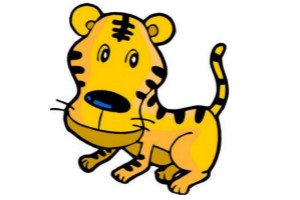 * The prediction is valid for 2017 (
year of the Rooster
) starting from January 28, 2017 and lasting to February 15, 2018.
Overall Rating:

Since Tiger and Monkey are incompatible with each other in Chinese Zodiac, you tigers have had a bad luck in 2016 which is
the year of Monkey
. Generally, you will have an average luck in 2017 and you will have neither a major breakthrough nor big disaster. Instead, you will be blessed by three auspicious stars, namely Guoyin, Yuede and Tianxi enable you to make a strong push in work and love. However, you need to work and live with an honest and down-to-earth attitude rather than acting on impulse for the sake of neighborhood harmony, family stability, smooth work and stable luck in 2017.
Please click for more details about
2017 Predictions for Tiger
2017 Horoscope Forecast for Tigers Born in Different Years:
1962 Tiger
(born between February 05, 1962 and January 24, 1963)
1974 Tiger
(born between January 23, 1974 and February 10, 1975)
1986 Tiger
(born between February 09, 1986 and January 28, 1987)
2017 Horoscope Predictions for Other Signs:
* The prediction is valid for 2018 (
year of the Dog
) starting from February 16, 2018 and lasting to February 4, 2019.
Since Tiger and Dog are in one of the Four Compatible Groups in Chinese Zodiac, you Tiger people will have favorable luck in 2018, the year of Wood Dog 'Wu Xu' (戊戌), with the help of benefactor. You will give better play to your talent and ability and your luck for wealth will rise smoothly.
Despite the help of the major auspicious star, your overall luck will be affected by several inauspicious stars related to mood. The inauspicious star 'Wu Gui' (五鬼) will make you emotional, uneasy and cannot trust others, thus affect your relationship with colleagues and family members. Plus, 'Fei Fu' (飞符) will make you extremely suspicious, even lead to the conflict with colleague or friend. Besides, you will be prone to lawsuits due to the influence of 'Guan Fu' (官符), such as traffic ticket or imprisonment. Therefore, you should observe law and disciplines in daily life and pay attention to clause details in contract.
In general, your overall luck will be stable and the main hinder will lie in your mood. When you have problems, you should analyze rationally and calmly and never hinder the overall development with the personal emotion.
Please click for more details about
2018 Predictions for Tiger
Yearly Horoscope for 2016: Bad
* The prediction is valid for 2016 starting from February 8, 2016 and lasting to January 27, 2017.
Overview:
2016 (
Year of the Monkey
) will be a very challenging, changeable and hard year for the people born under the Chinese zodiac sign of the Tiger. This is because the Tiger and Monkey couldn't get along well with each other based on Chinese zodiac compatibility astrology. So, the Tiger people in the monkey year will fluctuate in terms of fortune and have to work hard to overcome many challenges. You Tigers may encounter changes in work, family and other aspects. For example, house moving or purchase, job changing...Some may turn to be good and some bad. In all, during the year, don't set your goals too high, always be modest and especially pay special attention to your health.
Please click for more details about
2016 Horoscope for Tiger