Note: The horoscope prediction is for people born between January 23, 1974 and February 10, 1975. If you were born before January 23, 1974, your Chinese zodiac sign is Ox. Please consult
2016 Chinese Zodiac Horoscope for the Ox Born in 1973
.
The prediction is valid for 2017
Year of the Rooster
which is from January 28, 2017 to February 15, 2018.
Overview
Since Tiger does not harm, conflict or damage with Rooster in Chinese zodiac, you people born in 1974 under the animal sign of Tiger will not have particularly troublesome changes in fortune, neither clash with Tai Sui nor an unlucky year in 2017. Therefore, you will have quite good overall fortune in 2017, the year of Fire Rooster 'Ding You' (丁酉). However, most of you Tigers born in 1974 still should pay attention to a lot of things. In fact, you may suffer from slight inter-restriction between metal and wood; you should beware of joint injury and not demand much for other things to get through the year smoothly.
Career
In terms of career, you Tigers born in 1974 will have quite good development since there is no inauspicious star which will affect your work in the overall fortune of 2017. However, it is also not your career year, so you should have a moderate attitude in daily work and never act with undue haste. It is worth mentioning that you will have good luck with the benefactor and you may improve your career development with others' help. In addition, the year of Rooster will not suitable for you to change a lot; you may get promoted slightly but changing a job will be unsuitable for you. You may stay in the original company and strive for more opportunities of business trip, which will benefit your fortune.
Wealth
In 2017, you will spend for many things, such as children's education and family's daily expenses, which will oppress your wealth. If you don't want to have your life affected by the poor fortune in wealth, you should learn to manage money and invest correctly. In the year of Rooster, you should beware of document and contract matters; in particular, you Tigers born in summer will have bad luck with the subordinates and encounter management difficulties, even betrayal of subordinates, disclosure of company's confidential information or stealing company's property, making you feel troublesome and helpless. Since you will not have very good luck in wealth in the year of Rooster, you should not be overly aggressive but analyze and learn carefully before investing to improve the chance of making profits.
Love Relationship
You female Tigers born in 1974 may meet the one you love but find his condition and background not as you expected in 2017. If you really want to find the ideal lover, you may change your requirement to improve the chance of success. You male Tigers will be unlikely to find the right one due to the busy work and annoying trivial matters which will make you not keen on love, thus have average luck in love. Both male and female Tigers with stable lover will have ordinary luck in love and not encounter great impact on love in this year; you married Tigers will have even more stable luck in love relationship, so you may enjoy the time of getting along with your lover. But you should avoid having disputes with your partner on children's issues and communicate peacefully with him/her.
Health
Due to the inter-restriction between metal and wood in your Natal Horoscope, you will have relatively weak joints and skin; you should beware of injury or cut and adopt the corresponding protective measures if you have old joint illness or often contact with metal machinery in work. In addition, you will worry about your children for their mood or health in this year and suffer from some trivial matters. The year of Rooster will be suitable for you to decorate your home in a small scale or change the furniture, which will improve your family fortune to a certain degree.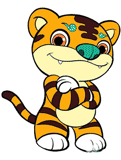 The prediction is valid for 2016 which is from February 8, 2016 to January 27, 2017.
Overview
In 2016,
the year of monkey
, those born in 1974,
the year of tiger
, will clash with the Tai Sui of the year. You will have to face more trivial issues and your interpersonal relationship is just so so. You will easily have quarrels with others and even dispute with your partner, so you should be patient and communicate more with them. Fortunately, you will have double luck to resolve difficulties so that no matter what kind of trouble you encounter, you can always manage to land on your feet. And it also will improve your overall fortune. You might as well spend more time with your friends born in the year of horse and dog, through which you can be infected by their good luck to reduce your bad luck. In short, if you can uphold the principle of "less talk and more work" and be careful in everything during the year of monkey, you can avert disaster and get through this year smoothly.
Career
Luck in work of those tigers born in the year of 1974 is obviously getting worse this year. You will inevitably encounter unpredictable resistance and frustration at work and everything is spacious and difficult to be grasped. So, you should use the personal wisdom and endurance to face them rationally. Only in this way can you solve the problem one by one. Besides, you shouldn't set your goals too high so as to avoid a gap with the expected. You will spend this year steadily without changes. Wage earners should maintain the wait-and-see attitude and do not rush to quit and change jobs for fear that the new job is not as good as the old one and the loss outweighs the gain. As for those interested in starting a business, you must be patient to wait if there is no mature plan. You must spend more time in preparation instead of taking risks. There is a greater chance of success to choose a lucky day to set up in business after 2016.

Wealth
During this year, your luck for wealth is not good. Since there is a sign of losing money, you must take no action. Losing a lot of money means cost with no return or financial loss by being cheated. Therefore, you may have no luck for wealth this year. You will not only accumulate little money but also easily be cheated to suffer a monetary setback. Those who have a habit of investment should be doubly cautious and do not easily listen to your friends' words to invest in dubious projects carelessly, which may waste all your savings.
Love Relationship
Furthermore, your love life is not going well either. Your spouse may easily suffer from serious illness. If it cannot be treated properly, it may cause death. It is very difficult for singles to find your Mr./Mrs. Right. So, you shouldn't be too stubborn but be flexible when you choose a partner. Men must reject all the temptations of debauchery and world of sensual pleasures. What you should do is not to indulge your desires but to stick to the bottom line. Don't take one false step that brings ever-lasting grief, otherwise it will be too late to regret. Women should be careful not to focus entirely on love life, because love is not the whole of life.

Health
At last, your health will not be stable this year. You are particularly susceptible to colds, flu and other epidemics, and gastrointestinal problems often occur too. You must pay extra attention to security. Especially when you use the weapon at home or in the company, you should be careful not to be injured by knives and scissors. What' more, there will be a "crying star" this year, which indicates that something miserable may happen in your family. If there are long-term patients or elderly people at home, you should pay more attention to their physical condition to prevent the occurrence of sad things. Since you clash with the Tai Sui of the year and your fortune is not smooth, you had better not to visit a patient or attend funeral.