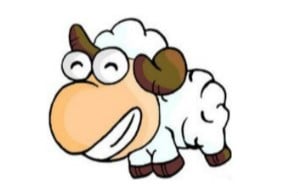 * The prediction is valid for 2017 starting from January 28, 2017 and lasting to February 15, 2018.
Overall Rating:
For you people born in the year of Sheep, 2017 which is
year of the Rooster
is definitely not a good year because you will meet many inauspicious stars, such as Yangren (羊刃), Tiangou (天狗) and Diaoke (吊客), which will greatly affect you. For example, Yangren represents the disasters of blood; under the influence of Tiangou, you will be more likely to have accidents while Diaoke will further deepen the negative energy of you Sheep in daily life. Fortunately, you will be blessed by three auspicious stars. But the power of inauspicious stars is stronger than that of the auspicious stars, thus the fortune change brought by the auspicious stars will be minimal. Therefore, you should see your overall fortune change clearly and correctly in the year of Rooster and learn to play for safety and be prudent to avoid all kinds of disasters in 2017.
Please click for more details about
2017 Predictions for Sheep
2017 Horoscope Forecast for Sheep Born in Different Years:
1967 Sheep
- (born between February 09, 1967 and January 29, 1968)
1979 Sheep
- (born between January 28, 1979 and February 15, 1980)
1991 Sheep
- (born between February 15, 1991 and February 03, 1992)
2017 Horoscope Predictions for Other Signs:
* The prediction is valid for 2018 (
year of the Dog
) starting from February 16, 2018 and lasting to February 4, 2019.
In 2018 which is the year of Wood Dog in Chinese Zodiac, you people of Sheep sign will be under the influence of auspicious and inauspicious stars on a par: blessed by four auspicious stars, namely 'Tian De' (天德), 'Fu Xing' (福星), 'Ba Zuo' (八座), and 'Ban An' (板鞍), and harmed by several inauspicious stars like 'Huang Fan' (黄幡), 'Juan She' (卷舌), 'Pi Ma' (披麻), and 'Jiao Sha' (绞煞). Therefore, you will see both opportunities and challenges when it comes to luck; only if you go all out and overcome difficulties, can you see hope in various aspects. 'Tian De' is a kindly auspicious star which suggests you will get help from the influential people; 'Fu Xing' and 'Ba Zuo' indicate the cheerful and peaceful mind, which means you will get out of troubles with a positive attitude no matter how many difficulties you meet; 'Ban An' symbolizes the smooth development in a place far away from hometown, so 2018 will be the best time for you to develop somewhere else and you will get more opportunities if you go out.
It's important to note that you will be harmed by several inauspicious stars bad for interpersonal relationship and health and you should stay alert in life and work. Influenced by both 'Juan She' and 'Jiao Sha', you will have quite fragile interpersonal relationship and should not haggle over every ounce on trifles; be open-minded, positive, modest and low-profile, you will minimize the harm of inauspicious stars.
Please click for more details about
2018 Predictions for Sheep
Yearly Horoscope for 2016: Average
Overview:
Fortune for the people born in
the year of Sheep
will be good for the first half of 2016. While, later this year will be many obstacles and you are always fail on the verge of success. Only by steady effort could make things go smoothly.
Please click for more details about
2016 Horoscope for Sheep