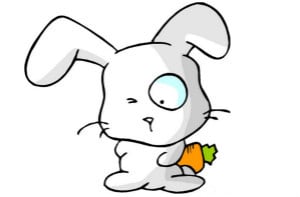 * The prediction is valid for 2017 (
year of the Rooster
) starting from January 28, 2017 and lasting to February 15, 2018.
Overall Rating:
In 2017, you under the zodiac sign of Rabbit will be unlikely to have good luck as you will oppose the Taisui who is the Grand Commander of the Year. What's more, the Rabbit's associated element Wood are restricted with the Rooster's element Metal which will bring you different types of bad luck, leading to the possible career setback or marriage crisis. In particular, you will have an overall bad luck due to the fact of conflicting with Tai Sui and the influence of inauspicious stars like Zaisha. In this year, you will experience ups and downs in luck and your family may also suffer health problems. However, opposing the Taisui is not necessarily bad; you can rise steeply if you can take the initiative to make changes and get ready for the coming problem.
Please click for more details about
2017 Predictions for Rabbit
2017 Horoscope Forecast for Rabbits Born in Different Years:
1963 Rabbit
(born between January 25, 1963 and February 12, 1964)
1975 Rabbit
(born between February 11, 1975 and January 30, 1976)
1987 Rabbit
(born between January 29, 1987 and February 16, 1988)
2017 Horoscope Predictions for Other Signs:
* The prediction is valid for 2018 (
year of the Dog
) starting from February 16, 2018 and lasting to February 4, 2019.
In 2017, you people of Rabbit sign have been in conflict with Tai Sui and experienced unstable luck and setbacks. Fortunately, in 2018 which is the year of Wood Dog 'Wu Xu' (戊戌), you will have quite stable luck and be blessed by several powerful auspicious stars, making you dispel the clouds and see the sun.
Since Rabbit and Dog are compatible with each other in Chinese zodiac, everything will go well with you to seek both fame and wealth under the blessing of three auspicious stars, namely 'Yue De' (月德), 'Tian De' (天德) and 'Sui He' (岁合). As a symbol of kindness, 'Yue De' will bring you a good interpersonal relationship; with the support of 'Tian De', you can give full play to personal leadership and show extraordinary talents in your career; 'Sui He' is an auspicious star which will bring you good luck with the opposite sex and benefit your love and marriage.
Despite the great help of auspicious stars, you Rabbits still should pay attention to the interference of inauspicious stars, mainly 'Xiao Hao' (小耗) and 'Xian Chi' (咸池). The former represents the insignificant loss of wealth while the latter symbolizes the unfavorable luck with the opposite sex and indicates you may fall in love but break up quickly and suffer unexpected personal financial losses from emotional disputes.
Please click for more details about
2018 Predictions for Rabbit
Yearly Horoscope for 2016: Good
*The prediction is valid for 2016 starting from February 8, 2016 and lasting to January 27, 2017.
Overview:
The fortune for you Rabbit in 2016 (
Year of the Monkey
) will be smooth upward. During the year, you could display your talent fully and are lucky enough to get help from a savior. Together with great effort, your career would be brought to a new milestone. In wealth, you should be prudent in financial management. There will be small twists and turns if you go out this year. E.g. weather changes, flight delays or loss of luggage. So, you are suggested to by travel insurance in case of any accident. Besides, it's a year during which you should keep your tongue in your jaw and your tow in your pump. All in all, it will be a year full of joyous occasions. No matter what reversal you have, you could manage to land on feet finally.
Please click for more details about
2016 Horoscope for Rabbit