Note: The horoscope prediction is for people born between February 17, 1988 and February 05, 1989. If you were born before February 17, 1988, your Chinese zodiac sign is Rabbit. Please consult
2016 Chinese Zodiac Horoscope for the Rabbit Born in 1987
.
The prediction is valid for 2017
Year of the Rooster
which is from January 28, 2017 to February 15, 2018.
Overview
You people born in 1988 under the zodiac sign of Dragon will have extremely good fortune in 2017 which will be a good year for you. On the surface, the blessing of two auspicious stars will have your overall fortune greatly improved and you will make a breakthrough in career, wealth and love relationship once you seize the opportunities. Of course, you will also suffer from the inauspicious stars which will mainly affect your luck in career and interpersonal relationship, thus you should be careful to get along with others and never have conflicts with others, so as to eliminate the potential crisis and improve your luck with the benefactor. In a word, you will have extremely good luck in this year; you can generally achieve your goals and have a successful career and prosperous luck for wealth. Despite the influence of inauspicious stars, you will turn ill luck into good as long as you are prudent enough.
Career
In 2017, you 1988 born Dragons' luck in career will be directly related with your interpersonal relationship. To be simple, your career development will depend on your luck with the benefactor: if you have no like-minded friends around, you can hardly develop your career; on the contrary, you will solve many problems easily with the help of others. Therefore, you should learn to get along well with others, especially those who can help you, and you should treat them sincerely to be recognized.
Wealth
You will have overall good luck in wealth which will generally keep rising due to the blessing of two auspicious stars in 2017. Of course, the main source of wealth will be your work and you will hardly have windfalls. Therefore, you'd better not involve in the high-risk speculation and you may choose the risk-minimizing project if you do want to invest. You businessmen will have a favorable turn, prosperous business and abundant profit but you should not expand the business blindly so as to avoid losing control. You are suggested to play for safety and maintain the original business.
Love Relationship
Since your zodiac is compatible with Tai Sui in 2017, you 1988 born Dragons will have smooth luck in love relationship and live a harmonious and peaceful life. Both male and female single Dragons will find the right one you satisfied and you should get along with him/her prudently. In particular, the two auspicious stars will bring you good luck with the opposite sex, so you will be very popular among others. If you are married, of course, you have to keep a certain distance while getting along with the opposite-sex friends to avoid being misunderstood by your lover. Despite the prosperous luck with the opposite sex, you single Dragons still need to take the initiative, or you will lose the opportunity. Therefore, you should make efforts if you want to get a good predestined relationship.
Health
You young Dragons will not be trapped in health problems and you can ensure the long-term health as long as you pay attention to exercise and reduce social intercourses, smoking and drinking. Even if you have minor illness, you will have not need to worry about it since it can be cured once you go to a doctor in time.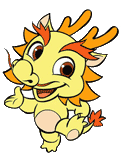 The prediction is valid for 2016 which is from February 8, 2016 to January 27, 2017.
Overview
In 2016, the year of Bing Shen
Monkey
, there will be nothing remarkable in the overall fortune of those born in 1988, the year of Wu Chen
Dragon
. Many people will propose new cooperation plans to you, but you must think twice before acting and never make a hasty decision because your luck for wealth will be unstable. Due to ups and downs in your luck for wealth together with gains and losses, it will be good if you can hold onto the current financial situation. The luck of those born in spring ( from the first lunar month to the third) or winter ( from the tenth lunar month to the twelfth) will be good and smooth, and your work and investment will be go well. However, those born in summer ( from the forth lunar month to the sixth) will feel difficult and you are suggested to travel to a cold place to have a change of luck. As for those born in autumn ( from the seventh lunar month to the ninth), your luck in wealth will be unstable so you should be cautious in financial management. Generally speaking, those born in 1988 will encounter many troubles in the first part of this year, so you should try to avoid making important decisions. In the second half of the year, you can be a little bold and aggressive, but you can not be too aggressive because you have no opportunities to put expertise to good use in 2016 and you should be conservative this year.
Career
The change of managers and boss in your company will luckily have little effect on you in 2016. You may spend more time in getting familiar with your new superiors and you may feel annoyed in this process, but fortunately there are supports between you and your colleagues and your new superiors are easygoing so that you can move forward further after a period of adaptation. The frequent personnel changes in your company will make it difficult for you to be promoted. Those working in the industry of intermediary as broker or publicist will be greatly appreciated by customers, which will make your performance improved.
Wealth
Those born in 1988, the year of Dragon, will easily gain or lose money. Business operators will have many new opportunities for cooperation. But your luck in wealth will not be good, so investment under insurance is feasible and you can spend a large sum of money in investment. Although you have the ambition to develop new projects, you must remember that you can never develop unfamiliar projects and to maintain the existing business will be more favorable. You should not only control costs but also set aside a sum of money to cope with the unexpected additional expenditure. What's more, those born in the year of Rat will be the helper of those born in the year of Bing Chen, so it will be good for your fortune to cooperate with those born in the year of Rat. In a word, you should be conservative in financial management.
Love Relationship
Those men in love will experience change in love life. You will meet many girls in 2016 and can get to know someone who may arouse your interest, but she has a boyfriend. Therefore, If handled properly, it will come up with a dispute. As for single ladies, you may meet someone special, but the conjugal fate in 2016 is short so you should be psychologically prepared that you may have a good result. The love of the ladies dating with others is going to be tested because you will quarrel with your boyfriend and even break up due to disagreement. Therefore, you should be patient with each other in daily life. The love life of married couples will be stable and you may have disagreement due to money or your partners' families, but there will be no serious problems.
Health
Those born in 1988, the year of Dragon, should pay particular attention to the injuries in hands, feet and head. Those who like to play football or other strenuous exercise and sports with confrontation need to warm up before exercise so as not to strain the old suffering. At the same time you must avoid climbing, rock climbing , scuba diving and other high-risk activities. And you should pay attention to safety when doing housework. You are likely to suffer from migraine caused by pressure, so you should take more exercise to relieve stress. Furthermore, your skin is prone to allergies, so you should not only pay attention to allergy caused by food but also repeatedly test them before use when you change new skin care products and shower gel.