Note: The horoscope prediction is for people born between February 3, 1973 and January 22, 1974. If you were born before February 3, 1973, your Chinese zodiac sign is Rat. Please consult
2016 Chinese Zodiac Horoscope for the Rat Born in 1972
.
The prediction is valid for 2017
Year of the Rooster
which is from January 28, 2017 to February 15, 2018.
Overview
You Oxen will have very good fortune in 2017, the year of the Fire Rooster 'Ding You' (丁酉), since the earthly branch 'Chou' (丑) of Ox mutually promotes with the earthly branch 'You' (酉) of Rooster and they mutually help each other. Therefore, you Oxen born in 1973 will have extremely good luck in 2017; what's more, 1973 is the 'Gui Chou' (癸丑) year while 'Gui' belongs to Water in five elements. You Water Oxen will have very good luck in health in the whole life and favorable luck in wealth since you know how to make money. In 2017, you will be in even higher spirits, more confident in work and more persevering, thus have significantly better luck in career than last year.
Career
The career fortune of you Oxen born in 1973 will be greatly improved in 2017 and you at the peak period of career will have smooth development in the year of 'Ding You'. Your business will rise rapidly as long as you make the reasonable career development plan, seize the opportunities and find the good partners. You workers may not have significant salary increase but you will have the chance of getting promoted and more power; besides, you will be more confident, full of vigor and in higher spirits, making more reasonable and clear decisions in work. If you want to change a job, you may make the decision in the second half of the year, especially after lunar August (September
20
, 2017 - October
19
, 2017 in Gregorian calendar). You will have well-content overall fortune in work if you are not so persistent and self-willed.
Wealth
The stable career fortune will bring you favorable luck in wealth and you will certainly gain certain benefits if you make some efforts in money management and investment. However, you should not be radical, or you will suffer unexpected personal financial losses if you invest too much and cannot stop due to the influence of several inauspicious stars, so you should not be careless. For those businessmen, you need to work hard to make money as you will not have very good luck in wealth, thus need to rely on yourself for everything and pay more attention to contract details; otherwise, you may have the crisis of unexpected financial losses because of carelessness. Due to the sign of possible financial losses, you should monitor costs closely to avoid running behind your expenses.
Love Relationship
In 2017, you female Oxen born in 1973 will be relatively lucky in love relationship and more likely to meet the right one who may have a certain gap with you in terms of age; but you may seize the opportunity since most of the relationship in the year of Rooster will develop smoothly. You male Oxen born in 1973 will spend more time in career and you are not positive in love relationship, thus will not have breakthrough in the luck with the opposite sex. If you already have the stable lover, your relationship will tend to keep still. You married Oxen may ignore your husband/wife and be complained by him/her due to your focus on work, so you may spend more time to stay with him/her to improve the relationship.
Health
Generally, you will not have serious illnesses in terms of health. However, you will have high pressure from work and need to bear certain responsibility, thus prone to mental stress, neurasthenia and poor sleep quality. Besides, the high pressure may lead to skin allergy and cryptogenic sensitive symptoms.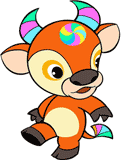 The prediction is valid for 2016 which is from February 8, 2016 to January 27, 2017.
Overview
As a whole, the fortune in all aspects will be much better in 2016 (
year of the Monkey
) than that in 2015 for you Ox born in 1973. Your career development will go smoothly and you are expected to have a nice income. The businessmen also will be in a great hope to make a bundle. However, you should avoid the money loss during the year as your friends or relatives may borrow your money. Remember to act according to your ability as you may not get your money back. In terms of health, you may suffer from indigestion and have a weak digestive system. Avoid those raw, cold or greasy foods as long as you can. When outing for a travel, you are easy to get sick as you are not acclimated to the new place. In addition, your mood usually swings and you are troubled by sleeplessness or migraine due to mental stresses. Therefore, you are suggested to do sports like Yoga or jogging to help relieve the pressure during the year.
Career
For you Ox born in 1973, the career will be mainly smooth in 2016. If you do creation or arts related jobs, your reputation may be enhanced. If you are a salesman, broker or work in public relations, you will be appreciated and supported by customers. In case you plan job-hopping, the chances will be less. So, you are not suggested to change the job this year. Besides, you may be asked to in charge with an important mission which you never done. Therefore, you will find yourself speeding and stressing out. Better ask for advices from seniors or the experienced when meeting difficulties.

Wealth
In financial aspect, if you work for a company, you are expected to get a nice income once you play to your originality in 2016. If you are a business operator, there will be many cooperation plans waiting you. However, don't too ambitious and avoid excessively expanding. If you plan to have an investment this year, just believe your inspiration instead of hearing on the bush telegraph. As a matter of fact, it's not a good year for you to set up a new business. You should manage money carefully to avoid financial losses. If you have prepared well for starting, good months are Chinese lunar month of February and October. In western dates, it's from Mar. 9 to Apr. 6 and Oct. 31 to Nov. 28.
Love Relationship
The married couples could enjoy a stable love relationship in 2016. The premise is that you don't neglect your partner's feelings as you are easy to immerse yourself in work. If you are single now, you will have more chances to meet your Mr. / Mrs. Right. At the same time, your relationship will go too fast that you may plan to get married during the year.

Health
There will be no big problem for your health in 2016. But if you were born during the Spring season, you will be weak and suffer from a series of minor illnesses. If you are in the habit of smoking, the problem of respiratory system may be worsened. To your health concern, you'd better make a plant to quit smoking or do more running or swimming to help strengthen the function of the lungs. The huge amount of pressure from your work may also make you sick this year. So, learn to relax yourself is very important.