Note: The horoscope prediction is for people born between February 16, 1980 and February 4, 1981. If you were born before February 16, 1980, your Chinese zodiac sign is Sheep. Please consult
2017 Chinese Zodiac Horoscope for the Sheep Born in 1979
.
The prediction is valid for 2017
year of the Rooster
which is from January 28, 2017 to February 15, 2018.
Overview
In 2017, the year of the Fire Rooster 'Ding You' (丁酉), you Monkeys born in 1980 will have overall good luck. After the animal year in the previous year, you will have your fortune slowly recovered in this year, especially in love and wealth. Due to the blessing of the auspicious star Hongluan (红鸾), you will have quite good relations with others and you singles may meet the right one. You will have good luck in interpersonal relationship, meet different kinds of friends and solve the problems in work with the interpersonal network; you will have good luck in wealth, especially the income from work and you will get the due returns once you work hard. You married Monkeys will have the previous year's marital problems solved but still need to beware of a third party in marriage and keep an appropriate distance with opposite-sex friends. Under the influence of the inauspicious star Sangmen (丧门), your family will be restless, such as frequent illness or accidents of family members. In the year of Rooster, you may take the initiative to purchase property, relocate, decorate your house or buy new furniture to answer the restless family.
Career
Blessed by the auspicious star Hongluan, you Monkeys born in 1980 will have better luck in love relationship in 2017, which will in turn benefit your career. Generally speaking, the good luck with the opposite sex will improve your luck with the benefactor, so you will meet many opposite-sex benefactors who will help you a lot. Of course, the good luck will not get the effect if you cannot operate it properly. You Monkeys need to make a sound plan for your work and career, so as to get the returns out of the inputs. In addition, you will be easily envied by the villains in work, thus should try to be low-key, or you will encounter many obstacles and suffer defeat on the verge of victory.
Wealth
In 2017, you Monkeys born in 1980 will have overall good luck in wealth but it doesn't mean you can choose the investing and financing projects with high risk and profit since you will also be affected by the inauspicious stars like Bingfu (病符) and Wangshen (亡神) in your horoscope, leading to the high probability of unexpected disasters. Therefore, you should avoid the large-scale investment and gambling. Fortunately, you will have stable income from work and will not have serious financial problems if you can make ends meet. In addition, you need to take precautions against unexpected personal financial losses out of being cheated.
Love Relationship
You don't have to worry about the marital problems in 2017. Since most of you Monkeys born in 1980 have got married and settled down at this age, you must have forgotten the beautiful days passionately in love because of all sorts of trifles and conflicts in family life, coupled with the fact of no stable basis for marriage, you might be at the most dangerous time in marriage. Due to the blessing of the auspicious star Hongluan, however, you will solve the problem and ease the relationship with your husband/wife.
Health
In this year, you will be prone to disasters of blood, especially wounded by edge tools like sword, scissor and saw. At middle age, you will have declined physical functions and more illness; moreover, the year of the Fire Rooster 'Ding You' itself will be the outbreak year of diseases for you Monkeys, so you should make more efforts for your health.
The prediction is valid for 2016 which is from February 8, 2016 to January 27, 2017.
2016 Lucky Astrology Elements for the Monkey People Born in 1980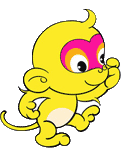 Element:
Metal Monkey
Lucky Numbers
: 4 and 6
Lucky Colors
: Beige, White and Light Blue
Auspicious Direction: West
Inauspicious Direction: Southwest
Helpful Zodiac Signs:
Pig
and
Rabbit
Overview
2016 is year of the Monkey, the zodiac year (
Benming Nian
) for the Monkey people. According to the ancient Chinese superstition, people in his Benming Nian usually have a bad luck. So, you 1980 born Monkey had better be prepared for the change in 2016. You may find no matter in career or relationship, there are some distance to your expectations. Sometimes, you may find that you can only get half the results with twice the effort. You are suggested to learn more knowledge to equip yourself during the year instead of having too much fantasy. Also, you'd better go out to relax more in the northwest with your friends and family members. When meeting difficulties, the people under the pig and rabbit sign would give you too much help. In addition, if you get married, purchase a new house or give birth to a baby this year, the lucky occasions would help to ward off those bad lucks to you.
Career
It's not so bad in terms of fortune in career in the year of Monkey. There will be many chances for you to show your ability. However, you are fond of the limelight which will make you easy to be conspired against by others. In work, you should learn to control your temper to avoid alienating others. If there is any chance to work abroad, you are suggested to attempt to get chance. Job-hopping is not advised in the year. Auspicious months for your career in 2016 are the Chinese lunar months of February (Mar.9 – Apr. 6), April (May 7 – Jun. 4), May (Jun. 5 – Jul. 3 ), August (Sep. 1 - 30) and December (Dec.29 – Jan. 27, 2017).
Wealth
The fortune in wealth will not favor you 1980 born monkey too much in the year of 2016. It's safe to be conservative and venture capital investment should be avoided. In daily life, don't consume impulsively. Or, you will be short of money and live in straitened circumstances. In Chinese lunar months of March (Apr.7 – May 6), April (May 7 – Jun. 4), October (Oct. 31 - Nov.28) and November (Nov.29 - Dec.28), you are suggested to take great care in money.
Love Relationship
When it comes to your love relationship, it's good for singles and not so good for the married couple. If you are single, you may meet your love when participate in a party or by the introduction of others. What you should do is to impress her/him with your sincerity. Auspicious months for you to find your love are the Chinese lunar June, July, August and December. In western calendar, it's from Jul. 4 to Sep. 30 and Dec.29 to Jan. 27, 2017.
The married may find your feelings become weak in 2016. This may be caused by the increasing workload. If you couldn't balance the two, you may separate this year. The best way to have a harmonious family is to understand and care each other more. Sometimes, to have a journey with your love and add some romance in life would be helpful to own a good love relationship.
Health
As the year doesn't favor you, you should especially care about your health. The function of your intestines and stomach will be weak in 2016. So, you should avoid those cold or fried foods. If you have a high blood pressure or heart disease, you may suffer a relapse. In addition, you should be careful when driving especially in lunar April (May 7 – Jun. 4) and August (Sep. 1 - 30). To increase your health fortune, you are suggested to wear the right charm and take a cruise journey.