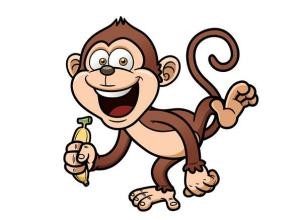 * The prediction is valid for 2017 (
year of the Rooster
) starting from January 28, 2017 and lasting to February 15, 2018.
Overall Rating:
In the year of 2017, you people under
the animal sign of Monkey
finally can breathe a sigh of relief because you have had a difficult year in 2016 and bad luck in various aspects due to the fact of conflicting Tai Sui (the Grand Duke Jupiter), thus have consumed most of your energy. Fortunately, the situation will be improved in 2017 and your luck will change completely. Due to the blessing of the auspicious star Hongluan (红鸾), you will have significantly improved luck in a new year and Hongluan will bring you good luck in love relationship and benefit your luck with the benefactor in terms of career and wealth. Therefore, you should brace up to greet a new year with improved luck.
Please click for more details about
2017 Predictions for Monkey
2017 Horoscope Forecast for Monkeys Born in Different Years:
1968 Monkey
(born between January 30, 1968 and February 16, 1969)
1980 Monkey
(born between February 16, 1980 and February 4, 1981)
1992 Monkey
(born between February 4, 1992 and January 22, 1993)
2017 Horoscope Predictions for Other Signs:
* The prediction is valid for 2018 (
year of the Dog
) starting from February 16, 2018 and lasting to February 4, 2019.
You people under the Monkey sign will be only blessed by two weak auspicious stars 'Yi Ma' (驿马) and 'Wen Chang' (文昌) but harmed by three major inauspicious stars 'Tian Ku' (天哭), 'Tian Gou' (天狗) and 'Diao Ke' (吊客) in 2018, the year of Wood Dog 'Wu Xu' (戊戌). As a result, you will have unfavorable luck in this year. 'Yi Ma' means "move rather than stay still" and it will be good for you to develop somewhere else. 'Wen Chang' in charge of the luck for study and promotion will bring you clear thinking and better comprehension and benefit your further study and exam.
The inauspicious stars 'Tian Ku', 'Tian Gou' and 'Diao Ke' will bring unexpected scare and accident. While taking a business trip or travelling, you should watch out and always keep an eye on weather changes, road safety, baggage and belongings to prevent loss and accident. Under the influence of 'Diao Ke', you Monkeys should avoid visiting a patient and attending a funeral, or the negative energy will make your luck for health even worse.
Please click for more details about
2018 Predictions for Monkey
* The prediction is valid for 2016 starting from February 8, 2016 and lasting to January 27, 2017.
Yearly Horoscope Forecast for 2016
: Bad
Overview:
2016 is
the year of Monkey
. Therefore it's the
zodiac year of birth (Benming Nian)
for the people under the Monkey sign. People in Benming Nian are easy to offend Tai Sui who is the legendary God in charge of people's fortune. So, fortune will fluctuate during this year for you Monkeys. What you should greatly care is the health of your family and yourself as well as the home safety. Career will go quite smoothly. Many opportunities will favor you. Therefore, your career may reach the peak if you could take the chance.
Please click for more details about
2016 Horoscope for Monkey