Note: The horoscope prediction is for people born between February 06, 1989 and January 26, 1990. If you were born before February 06, 1989, your Chinese zodiac sign is Dragon. Please consult
2016 Chinese Zodiac Horoscope for the Dragon Born in 1988
.
The prediction is valid for 2017
Year of the Rooster
which is from January 28, 2017 to February 15, 2018.
Overview
For you people born in 1989 under the animal sign of Snake, 2017 will be a good year for your development. During this year, you will be often assisted by others to ensure your continuous career development. Despite the help of the benefactor, the power will be a little weak and you still need to solve the problems with your perseverance and ability. You should not work alone for everything but cooperate with others or listen to the advices of elders or professionals to solve the problems efficiently. Besides, you females Snakes will have good luck in marriage and love relationship since your earthly branch 'Si' (巳) will be compatible with the earthly branch 'You' (酉) of Rooster, which will benefit the development of love relationship.
Career
Since you are compatible with Tai Sui (Grand Duke Jupiter) in 2017, you will naturally build a relationship with the benefactor who will not help you easily unless you provide the necessary returns. Due to the adverse impact of several inauspicious stars, you should pay attention to build good relations with colleagues around and never offend the villains unconsciously, or you will come under attack at the critical moment of work. If you are engaged in literature or art, this year will be good for you.
Wealth
Of course, you workers born in 1989 will not have problem in the income from work in 2017; If you are salesmen, businessmen or self-employed people, you should take advantage of being compatible with Tai Sui to broaden the friend circle for more opportunities. Generally, you will have stable luck in wealth and should pay attention to the unexpected spending due to the adverse impact of the inauspicious stars 'Bai Hu' (白虎) and 'Da Sha' (大煞), so you should deposit a certain sum of money for a rainy day. You will have slightly bad luck for wealth in spring and some windfalls in autumn and winter, especially in lunar August and during the winter.
Love Relationship
Being compatible with Tai Sui will benefit the development of marriage and love relationship, especially for women born in 1989. You will have very good luck with the opposite sex, which means you will be more likely to be pursued by others. In particular, you female Snakes who have never married or been in a relationship will find the right one in this year. Despite the good luck with the opposite sex, however, you should make the reasonable choice; to be simple, you should see the true face of the other party while getting along with others and never open your heart randomly, so as not to be deceived.
Health
Due to the adverse impact of the inauspicious stars 'Bai Hu', you Snakes born in 1989 should pay attention to skin and gastrointestinal problems, such as diarrhea and skin allergy in 2017. While going out with friends, you should keep an eye on the traffic as you may have an accident or sprain. At the same time, you should concern the health of the elders, take them to a hospital for body check regularly and go to a doctor immediately once they are uncomfortable, so as to avoid the serious consequence caused by the delay of treatment. During lunar February, April and October, you'd better not go out to travel.
The prediction is valid for 2016 which is from February 8, 2016 to January 27, 2017.
2016 Lucky Astrology Elements for the Snake People Born in 1989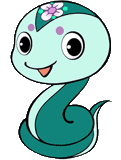 Lucky Colors: Pink, Green, Apricot
Lucky Numbers: 2, 8
Auspicious Direction: South
Overview
The
Snake
persons born in 1989 year of Ji Si could make a great improvement in general in 2016 year of Bing Shen
Monkey
. There usually are elders or friends around you helping a lot when you are in trouble. However, your earthly branch Si and 2016's earthly branch Shen restrict with each other, you will find some blocks when dealing with things in the year. The most problem you will meet is the personal relationship. Also, you will often feel depressed and nervous. Therefore, better keep your tongue in your jaw and your tow in your pump. Fortune in study will be nice in 2016. So, it's might as well to attend some interest classes that are related to your work to enrich yourself. If you were born in the Chinese lunar months of October or November, 2016 will be much favorable to you. March, June, September or December born ones would be easy to have disputes with others due to the surge of emotion. Born during the months of Aril and May? Your are suggested to arrange some short trips during the year, better places along the river or sea to help enhance the fortune.
Career
For working-classes born in 1989, your career will develop steadily in 2016. The public servants will have chances of getting promotion which require you to grasp. The female superiors will appreciate and help you too much. However, the relationship with your colleagues will not so good because you usually say whatever it takes that are easily offend them. In terms of job changing, it's not a good year. Better take your post and enrich yourself through refresher courses to pave a good way for your future development. Some of you will have idea of starting your own business. If you choose investment industry, there will be more chances to get success.
Wealth
Luck in money will be average in 2016 for the Snake persons born in 1989. It's suggested to make a good financial planning at the beginning of the year. Reduce those unnecessary expenditures and avoid impetuous consumption and investment. For businessmen, the year is good for you to expend your business and find more cooperation opportunities. While, if you want to go far in your field, you need to have more new ideas and take everything personally.
Love Relationship
For the single Snakes born in 1989, you have more possibilities of finding your love from friends meetings or in parties. One of your friends may also become your love in 2016. So, you are advised to keep your eyes on the friends around you. If you are dating now, you may feel boring this year. You are suggested to get married if you think he/she is the right one as the year is a good for you to get married. The married couples are easy to be interfered by the third party. Therefore, pay much attention to the relationship with your partner is very important during the year. Especially avoid quarrelling because of money problems in daily life.
Health
Health condition in 2016 for you Snakes born in 1989 will be much better than that of last year. There will be no major illness but small ones. So long as you take pills in time, you could recover soon. What you should pay much attention in the year is diet as you are easy to suffer from indigestion. Also, you will feel more tired due to the heavy work. If possible, often do physical exercises to improve fitness. Mentally, you are inclined to be down in spirits and lose sleep due to the trouble in interpersonal relationship. Decorate house more with the colors of green, beige or white will help to cheer you up.