Pi Xiu in Feng Shui Uses and Placement
Pi Xiu in Feng Shui Uses and Placement
Pi Xiu Feng Shui Uses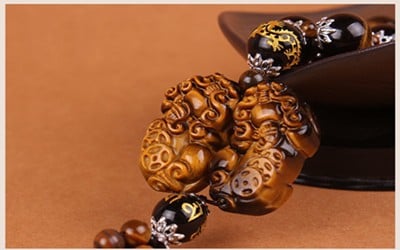 1. Guard home and ward off evil spirits.
Put a consecrated Pi Xiu at home, it will become a patron saint which can bring your family good fortune, ward off the evil spirits and guard your home. For the effect of warding off the evil spirits, you'd better choose the Pi Xiu with two antlers because the one-antlered, named Tian Lu, is more effective for bringing good fortune.
2. Bring good fortune.
Pi Xiu is helpful for both windfall and income from work. It suits for both office workers and businessmen who may put it at home or in company.
3. Draw money and gather wealth.
If you are frustrated in job hunting, at work or in money management, you are suggested to wear a Pi Xiu to work well, get more income from work and windfall and prevent your wealth from any losses.
4. Drive away the misfortune of Five Yellow.
Pi Xiu can drive away the misfortune brought by Five Yellow and those in home Feng Shui, especially the inexplicable financial losses.
As for Feng Shui, Pi Xiu also has male and female one. The male Pi Xiu represents luck in making money while the female represents the Wealth House. Since wealth shall be preserved in house, you need to buy a pair of Pi Xiu to bring in wealth and treasure. If you need to wear a Pi Xiu, a single small one is enough.
Selection of Material
Pi Xiu can be made of many materials yet the crystal, emerald, gold, silver and bronze ones are best when it comes to bring good fortune in making money. According to the statistics, among people who wear Pi Xiu, no one has died of car accident or other accidents; among those who wear gold or silver, up to 89.3% have died of robbery or murder. In addition, the size of Pi Xiu depends on your house or your own. The suitable one will be fine.
Where Is the Best Place To Place Your Pixiu?
Usually, there are many things to be noted when you place the Pi Xiu you bought. In Feng Shui, the improper arrangement may have the opposite effect.

1. If you place a Pi Xiu at home, make sure its head to face a window or door for money drawing and home guarding.

2. Pi Xiu is not fit for putting in the bedroom. You may put it in the sitting room to give full play to its role. Because of the residential structure, sitting room usually serves as the ''Central Palace'' of home Feng Shui and occupies the central position of a house. If it is impractical to put Pi Xiu in the sitting room, you can put it on the sill of the largest window and have its head face outward.

3. The head of Pi Xiu cannot face the front door which is under the charge of the God of Door and the God of wealth. Otherwise, it will exceed the authority. For other doors, however, it will be fine to face or not.

4. Do not have Pi Xiu face your bed, or it will be harmful to you.

5. Do not put Pi Xiu above your head. Otherwise, Pi Xiu will not gather wealth for you since it cannot see you.

6. Do not have Pi Xiu face a mirror. The normal sunlight does not harm Pi Xiu, but not for those reflected thru a mirror. Since Pi Xiu fears the reflected sunlight, you should not have its head face a mirror, or its spirituality will be affected.

7. Do not have Pi Xiu's head face a fish tank or Buddha statue or put it under a beam. Also, do not make it face a computer since Pi Xiu has a terror of glare.

8. Once the Pi Xiu is placed properly, do not move it randomly. Pack its head with red cloth before moving for cleaning.

9. Offer a cup of water in front of Pi Xiu which cannot live without water, because it is a son of Dragon King. Make sure the water is not higher than Pi Xiu's head.

10. Expose Pi Xiu to incense. Light an incense stick every day and expose Pi Xiu to it. In this way, Pi Xiu will be more energetic in looking for money.

11. Will it be better to have more Pi Xiu in the house? The answer is no. Pi Xiu is a fierce animal and they will fight against each other if you have too many at home.