Chinese Zodiac - Dragon
As the symbol of Chinese nation, dragon represents authority and good fortune. It has the fifth position among the Chinese zodiac animals. People born in the year of the Dragon are powerful, kind-hearted, successful, innovative, brave, healthy courageous and enterprising. However, they tend to be conceited, scrutinizing, tactless, quick-tempered and over-confident.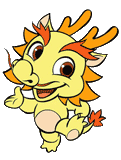 Basic Astrology Elements
Earthly Branch of Birth Year: Chen
The Five Elements: Earth (Tu)
Yin Yang: Yang ([Chinese philosophy] positive/active/male principle in nature)
Lucky Numbers: 1, 6, 7; Avoid 3, 8, 9
Lucky Flowers: bleeding heart vine, larkspur
Lucky Colors: white, golden, red, purple, yellow, brown; Avoid cyan, green
| Start Date | End Date | Associated Element | Heavenly Branch |
| --- | --- | --- | --- |
| 01/23/1928 | 02/09/1929 | Yang Earth | Wu Chen |
| 02/09/1940 | 01/26/1941 | Yang Metal | Geng Chen |
| 01/27/1952 | 02/13/1953 | Yang Water | Ren Chen |
| 02/13/1964 | 02/01/1965 | Yang Wood | Jia Chen |
| 01/31/1976 | 02/17/1977 | Yang Fire | Bing Chen |
| 02/17/1988 | 02/05/1989 | Yang Earth | Wu Chen |
| 02/05/2000 | 01/23/2001 | Yang Metal | Geng Chen |
| 01/23/2012 | 02/09/2013 | Yang Water | Ren Chen |
| 02/10/2024 | 01/25/2025 | Yang Wood | Jia Chen |
Among all the twelve Chinese zodiac signs, dragon is the only fictitious and deified animal that doesn't exist in the world. It is one of the four most revered animals of ancient China (they other three are phoenix, tortoise and kylin). The dragon images now we see are just from people's imagination. Because of this, the people born in the year of the dragon are usually dreamers fond of imagining. This gives others an unreal sense about them. To mention about their work, they can work hard at the beginning but usually give up once encounter difficulties. The permanent jobs with fixed salary are not fit for them. Those need more imagination like interior designers, architects, artists or cultural workers are suitable for them. The dragon women usually are typical modern occupation female paying much attention to their work while neglecting marriage. In general, the people under the dragon sign are mostly marry at a mature age as concentrating too much on their career.
The dragon people born in different periods of a day have different personalities and fortune:
Good luck usually comes early for the dragon people born in the morning. Most of them can attain great distinction at an early age. At the age of thirty-five would be the peak stage of their fortune. After this time, a stagnant stage will come and they are hard to gain revolutionary headway. If they can breakthrough the predicament with the assistant of interpersonal relationship, there still will be more success in the future. Or, like the proud dragon repents, they will be on a downward trajectory.
The dragon people born at noon are usually big dreamers and risk-takers. They are unpredictable people who can play their imagination to the extreme. They would not like to seek fame and wealth. Also they don't stick at trifles and have the way of great generals. Because of the personality of don't bother about trifles, they are often lack of consideration and can't attend to one thing without neglecting the other. Thus, their fortune in career is full of twists and turns. After passing through some ordeals, good luck will favor them. So, good fortune usually comes late for the dragon people born at noon.
The dragon people born in the evening are dragons hiding in deep waters. They look very lazy when you sometimes see them sitting and watching TV the whole day long. While, once doing things, they are more enthusiastic, devoted, and enterprising than others. They usually can finish the tasks well at one go. Therefore, they are fit to work and show their abilities in arts and sports worlds. When there are no performances or matches, they can sit around. Once the task comes, they can fling all their energies into work. Besides, the religious occupation which needs to preach ardently and persuade others fit them well.
The Dragon people of different elements also have different personalities and fortune:
Click the following links to get personalities and horoscope for the five types of Dragon.
→
Fire Dragon
: 1976 (Jan. 31, 1976 - Feb. 17, 1977)
→
Wood Dragon
: 1964 (Feb. 13, 1964 - Feb. 01, 1965)
→
Water Dragon
: 1952 (Jan. 27, 1952 - Feb. 13, 1953) or 2012 (Jan. 23, 2012 - Feb. 09, 2013)
→
Metal Dragon
: 1940 (Feb. 09, 1940 - Jan. 26, 1941) or 2000 (Feb. 05, 2000 - Jan. 23, 2001)
→
Earth Dragon
: 1928 (Jan. 23, 1928 - Feb. 09, 1929) or 1988 (Feb. 17, 1988 - Feb. 05, 1989)
The Dragon people born in the 1st, 3rd, 9th, 12th, 13th, 16th, 21st, 22nd, 24th, 25th, 28th or the 30th day in Chinese lunar calendar are usually blessed with good luck and fortune during the whole life.

The Dragon people born in February, March, April, July or August are usually lucky and fortunate.
February: The Dragon people born in February could have a prosperous fortune and great success in career. Owning a great power and high position, they are well-respected by people.
March: Blessed with great talent, the Dragons born in March are usually put in an important position in work. Also, they are strong-willed and perseverant. Most of them could achieve a high official position.
April: Full of vigor, wise and highly regarded by others, the Dragon people with the birth month of April are winners both in fame and profit.
July: Blessed with extraordinary talent and courage, the Dragons born in July could get success in every aspect. They could keep good health and are regarded venerable.
August: The dragons with the birth month of August are always outstanding figures. They are also popular among friends and enjoy a free life by traveling around the world.
Note:
The months here refer to the Chinese lunar month. Please use the Gregorian-Chinese Calendar Converter tool on
Chinese calendar
page to find the Chinese lunar month.
Best Match: Rat, Monkey, Rooster
Worst Match: Ox, Dog, Dragon, Sheep, Rabbit
→ Please click for more about Dragon Compatibility.
Find your compatible zodiac signs according to your month:
| Birth Month of the Dragon | Personality of the Dragon | Girl's Match | Boy's Match |
| --- | --- | --- | --- |
| Jan. | behavioristic | Ox | Ox |
| Feb. | having a powerful reasoning capacity | Sheep | Rooster |
| Mar. | having a strong sense of self-importance | Dog | Sheep |
| Apr. | generous, bold and unconstrained | Dog | Rat |
| May. | open and cordial | Snake | Dog |
| Jun. | having a strong sense of honor | Ox | Rooster |
| Jul. | hard-working | Dog | Rat |
| Aug. | quick in mind | Rabbit | Rooster |
| Sep. | economical | Tiger | Rat |
| Oct. | honest and courageous | Dragon | Rat |
| Nov. | lonely and sensitive | Pig | Ox |
| Dec. | determined | Ox | Dog |
► Dragon Yearly Horoscope

2017 Yearly Horoscope Predictions
* The prediction is valid for 2017 starting from January 28, 2017 and lasting to February 15, 2018.

Overview: Entering into 2017 which is the year of the Fire Rooster 'Ding You', you Dragon people will have significantly improved fortune and you may get great development in both love and career since rooster and dragon are compatible with each other in Chinese zodiac; you Dragons will be bound to have good fortune in 2017. During the year, you should try to expand your vision as far as possible and never limit your activities within a small scope but take a broad view to seize more opportunities. In 2017, you will be blessed by two auspicious stars, namely Longde and Ziwei , which suggests that you will have good fortune in both career and wealth. However, you should beware that you will be affected by the inauspicious stars like Posui, thus easy to provoke villains, so you should pay special attention to it and never act on impulse to meddle in others' business, or you will be in troubles. Find out what's in store for your sign in money, career, love relationship and health for 2017, please click:
→ Dragon Horoscope 2017 Predictions

You may also want to know Dragon horoscope in the next year. Please click: → Dragon Horoscope 2018 Predictions

2017 Yearly Horoscope for Dragons Born in Different Years
→ Horoscope Forecast for the Dragons Born in 1964 (between February 13, 1964 and February 01, 1965)
→ Horoscope Forecast for the Dragons Born in 1976 (between January 31, 1976 and February 17, 1977)
→ Horoscope Forecast for the Dragons Born in 1988 (between February 17, 1988 and February 05, 1989)

► 2017 Monthly Horoscope
Find out what 2017 will be for the Dragons in each month? Please click 2017 Monthly Horoscope Prediction for the Dragons
The Dragon people are not fit to those manual and mechanical jobs. They should choose those works from which they could display their creative and thinking talents well. Therefore, working as an office man is not fit to a Dragon. Suitable jobs for them include statesmen, conductors, artists, critics, sportsmen and explorers.
When selecting a Chinese name for the people born in the year of Dragon, there are some dos and don'ts you need to know which are based on the characters of the Dragon, zodiac compatibility and Chinese five element theories. Let's take a look at what are good and auspicious names for the male and female Dragons.
→
Auspicious Chinese Names for the Dragon Year People