Chinese Zodiac - Rooster
Rooster ranks the tenth among the Chinese zodiac animals. In Chinese culture, Rooster represents fidelity and punctuality, for it wakes people up on time. People born in the year of the Rooster are beautiful, kind-hearted, hard-working, courageous, independent, humorous and honest. They like to keep home neat and organized. On the other side, they might be arrogant, self-aggrandizing, persuasive to others and wild as well as admire things or persons blindly.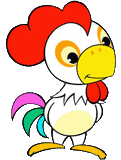 Basic Astrology Elements
Earthly Branch of Birth Year: You
The Five Elements
: Metal(Jin)
Yin Yang: Yin ([Chinese philosophy] negative/passive/female principle in nature)
Lucky Numbers
: 5, 7, 8; Avoid: 1, 3, 9
Lucky Flowers: gladiola, impatiens, cockscomb
Lucky Colors: golden, brown, brownish yellow, yellow; Avoid white, green
| Start Date | End Date | Associated Element | Heavenly Branch |
| --- | --- | --- | --- |
| 01/26/1933 | 02/13/1934 | Yin Water | Gui You |
| 02/13/1945 | 02/01/1946 | Yin Wood | Yi You |
| 01/31/1957 | 02/17/1958 | Yin Fire | Ding You |
| 02/17/1969 | 02/05/1970 | Yin Earth | Ji You |
| 02/05/1981 | 01/24/1982 | Yin Metal | Xin You |
| 01/23/1993 | 02/09/1994 | Yin Water | Gui You |
| 02/09/2005 | 01/28/2006 | Yin Wood | Yi You |
| 01/28/2017 | 02/15/2018 | Yin Fire | Ding You |
| 02/13/2029 | 02/02/2030 | Yin Earth | Ji You |
Personality of the Rooster
The rooster is the dawn announcer waking people up on time in the morning. Since the ancient times, it has been thought to have the ability of divining the future. Also in Greek mythology, it is said that the rooster can feel what will happen in the future. So, it is regarded as the god's ambassador. The people born in the year of the rooster also have the ability to discern what is coming. They like to think more and have a good plan when dealing with things. Also, they usually use in ways others could never have imagined to solve problems which making others surprise.

The people under the Rooster sign are warm, generous, diligent, sociable and very capable speakers. They have quick wit and think fast. So sometimes they are impatient. When talking, they may stammer as their mouth couldn't catch up with the brain. To change this, they need to think slowly. The men born in the year of the rooster usually pay great attention on his appearance. They dress well no matter in casual clothes or suit. The women also are beautifully dressed with a variety of colors. As they attach great importance to the attire, they look upon with disapproval to those who dress casually and don't like to communicate with them. Therefore, they usually leave an impression of coldness to others.

The rooster people born in different periods of a day have different personalities and fortune:

The rooster people born in the morning are highly-motivated and conscientious in the performance of their duties. However, when dealing with things, they show out to be overhasty. When others are slow, they will press and blame them all the time. Although they intend no harm, this gives a terrible impression to others. The Rooster women born in the morning like to chatter ceaselessly that usually annoy others terribly.

The rooster people born at noon are ardent and conscientious in doing their work. They are capable workers thought highly by their superiors. When dealing with people and handling affairs, they also do well. Therefore, they usually advance quickly. What's more, they have a large circle of friends and are very popular at parties. So, they usually have more chances to drink. But they are abstemious in drinking.

The rooster people born during the evening are always looks sleepy and lack of initiative, competitive power and method when doing things. They can live smoothly all their lives and enjoy a good level of material life. In work, if they could try hard, they may get steady jobs such as civil servants. The women mostly have no will of their own and can't make decisions on their own. Therefore, they had better to marry the men who have good financial ability and can protect them well. If so, they can live happily and leisurely.
Best Birth Months for the Rooster
Auspicious birth months for the Roosters are February, March, April, August and September. Following are explanations about how lucky they are.
February:
Born in February, they are blessed to enjoy a free and pleasant life. No matter in career or other aspects, they could achieve great success.
March:
The Roosters born in March are pretty clever and could adjust to the changing circumstances. Their life would be glorious that bring prestige and honor to their families.
April:
The Roosters born during April are optimistic by nature. Their fine business brain, intelligence, earnest and down-to-earth spirit enable them to own a prosperous business which is started from scratch.
August:
Born in August, they are bold and crafty in character. Together with their strong will and wisdom, they could get a distinguished career and respected by others.
September:
The Roosters born in September are capable, independent and pleasant in personality. They could have a good run for money. The life for them will be pleasant and comfortable.
Note:
The months here refer to the Chinese lunar month. Please use the Gregorian-Chinese Calendar Converter tool on
Chinese calendar
page to find the Chinese lunar month.
Compatibility with other Animals
The people born in the year of the Rooster can get along well with the people born in the year of the snake, because they are complemented with each other in terms of character. The Ox people can make the Rooster's dull life more colorful. The Dragon people like to learn from the Ox's great courage to establish great ideals. The people born in the year of the Tiger, Sheep, Monkey and Pig can be good companions to the Rooster. However, when a Rooster is together with another Rooster or a Rat, they are easily to fight with each other. The relationship between the Rooster and Rabbit is also not good as they have different personalities. A Rabbit person likes to avoid arguing with his enemy while a Rooster will struggle and quarrel. In terms of the relationship between the Rooster and the Dog, it's changeable. Sometimes they are increasingly intimate and sometimes they are coldly indifferent with each other. They can cooperate well when they need each other. However, it is doomed to be a failure if they marriage.
Find your compatible zodiac signs according to your month:
| Birth Month of the Rooster | Personality of the Rooster | Girl's Match | Boy's Match |
| --- | --- | --- | --- |
| Jan. | alert | Dog | Horse |
| Feb. | freedom-loving | Dragon | Rat |
| Mar. | righteous; right-minded | Dragon | Rabbit |
| Apr. | cheerful and carefree | Sheep | Snake |
| May. | industrious and practical | Snake | Dog |
| Jun. | sensitive | Tiger | Rabbit |
| Jul. | impetuous; impatient | Ox | Horse |
| Aug. | Laissez-faire | Tiger | Monkey |
| Sep. | having a bravura of execution | Monkey | Pig |
| Oct. | virtuous and sincere | Snake | Dragon |
| Nov. | pure and lovely | Horse | Dragon |
| Dec. | provocative | Pig | Dog |
Ideal Jobs for the Rooster
The Rooster people are usually energetic and have a strong ability to deal with affaires. Most of them build their own careers in earlier days. Also in work, they are serious, talented and courageous. They heat to be ordered to do things. Based on these, suitable jobs for the Roosters include politicians, policemen, diplomats, sportsmen, dress designers and beauticians. Also, they are fit to show their ability in the fields of tourism and entertainment.
2015 Horoscope for the Rooster
* Please note that the prediction is valid for 2015 starting from February 19, 2015 and lasting to February 7, 2016.
Yearly Horoscope Forecast: Average
Lucky Colors in 2015: golden yellow, gray
Lucky Numbers in 2015: 3, 7
Best months of 2015: April, July, August, October and December

The people born in the year of the Rooster will undergo a sea of change during 2015 which is the year of the sheep. It is predicted that you Roosters' life will be full of unanticipated. Such as for your work, there will be unstable happenings for you. It will be a year full of traveling chances most of which are for business. Also, it is comparatively a busy year for Roosters which requires you to gain more experience and connections. This will be a great help for your future career. In terms of personal relations, you will be distressed by terrible discord. As a result, your work will be affected. Only you try to take it easy and learn to be comfortable with them can resolve the contradictions gradually. In all, no matter how hard you are this year, you are lucky to get help from others and overcome difficulties. So, contact with others more will be a great help.

Wealth: The financial status is predicted to be unsatisfactory for the Rooster people in this Sheep year. Although you sow too much, you reap little. Many plans for you are just in progress and the success or failure for them is still very much on a knife - edge. In addition, you will spend more because of your frequent outings. Therefore, it is hardly to make both ends meet for the Roosters in 2015.

Career: In General, work will be just so so for the Rooster people in 2015. Although there is not too much amount of work, you still feel you are busy all day long. This will make you so tired thus affecting work effectiveness. It would be well if you spare some time to travel and relax yourself. You may find you will be full of vigor after back and are able to deal those miscellaneous things well.

Relationships: The Roosters will have a peaceful year in matters of relationship in 2015. As you will have more chances to go out for business, it's better to take your love together. It will make your relationships more pleasant. For single Roosters, it's not a good year to get into relationships.

Health: Health problems will be mainly related to physical damage for the Roosters in 2015. Beware of falling down this year especially for the Roosters born in the years of 1945 and 1957. Be carefully when driving and if possible take public transport instead to avoid accidents.

Click to get 2015 horoscope for the Rooster born in different years
2016 Horoscope for the Rooster
* The prediction is valid for 2016 starting from February 8, 2016 and lasting to January 27, 2017.
Yearly Horoscope Forecast for 2016: Good
Lucky Colors in 2016: orange, brown
Lucky Numbers in 2016: 4, 7, 0
Charm: The Rooster people are suggested to wear a necklace or bracelet with a rooster sign to defuse those disadvantages and bring good luck in 2016. You can click the following pictures to buy one.
Overview:
2016 which is
year of the Monkey
is a pretty good year for the people under the Rooster sign. You would be lucky to get help from savior in work and may get a power enhancement. Your love life will flourish and would get married this year if you are in love. However, you are not so smooth in personal relationship. You are easy to offend others because of your improper words. So, others will not be pleased with you. What you should do is to learn to hold your tongue and avoid having too many irons in the fire. All in all, you will have plenty of room for improvement in 2016. As long as you could be deliberate in speech and action and confide to others when meeting troubles instead of splitting hairs alone, you can enjoy a nice 2016. More about how will you do in career, work, wealth, love and health, please click:
2016 Horoscope for Rooster Born in Different Years
→ 2016 Horoscope for the Rooster Born in 1981 (between February 05, 1981 and January 24, 1982)
→ 2016 Horoscope for the Rooster Born in 1993 (between January 23, 1993 and February 09, 1994)
Lastest Questions and Answers