Chinese Zodiac - Pig
Occupying the last position in 12 Chinese Zodiac animals, Pig is mild and a lucky animal representing carefree fun, good fortune and wealth. Personality traits of the people born under the sign of the Pig are happy, easygoing, honest, trusting, educated, sincere and brave. The possible dark sides the Pig people are stubbornness, naive, over-reliant, self-indulgent, easy to anger and materialistic. They are sometimes regarded as being lazy.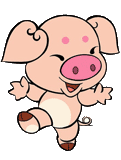 Basic Astrology Elements
Earthly Branch of Birth Year: Hai
The Five Elements: Water(Shui )
Yin Yang: Yin
Lucky Numbers
: 2, 5, 8; Avoid 1, 3, 9
Lucky Flowers: hydrangea, pitcher plant, marguerite
Lucky Colors: yellow, grey, brown, golden; Avoid: red, blue, green
| Start Date | End Date | Associated Element | Heavenly Branch |
| --- | --- | --- | --- |
| 02/04/1935 | 01/23/1936 | Yin Wood | Yi Hai |
| 01/22/1947 | 02/09/1948 | Yin Fire | Ding Hai |
| 02/08/1959 | 01/27/1960 | Yin Earth | Ji Hai |
| 01/27/1971 | 02/24/1972 | Yin Metal | Xin Hai |
| 02/13/1983 | 02/01/1984 | Yin Water | Gui Hai |
| 01/31/1995 | 02/18/1996 | Yin Wood | Yi Hai |
| 02/18/2007 | 02/06/2008 | Yin Fire | Ding Hai |
| 02/05/2019 | 01/24/2020 | Yin Earth | Ji Hai |
| 01/23/2031 | 02/10/2032 | Yin Metal | Xin Hai |
The pig, closely related to us is thought to be clumsy, lazy and smelly. While, scientific research shows that they are clever and pretty clean. There are wild boars living in mountain forests that are thought to be ferocious. It is said that when a group of boars walk together, the leader will erect his tail to show him as the leader. It is the same as the people born in the year of the Pig. If they are supervisors in an organization, they always remember to show themselves as the leader and sometimes may act arbitrarily.

Warm-hearted, honest and tolerant to others, the people under the Pig sign are always full of friends as they are faithful to them and set a high value on friendship. Whenever a friend is in need, they will help without hesitation. Also, they dislike quarreling and are magnanimous to let bygones be bygones. So, they usually can get along very well with others. Although thought to be materialists, they are not stingy and would like to share what they have with others.

In career, once meeting frustration, the Pig people is easy to lose confidence, care too much about other's sneers, and thus look down on themselves. Therefore, try to calm down and communicate with colleagues are important at that time. On the other hand, they are diligent and always spare no effort to finish the duties. So, good luck often favors them. They are also patient in their jobs which make them good teachers.

Their shortcomings are too kind-hearted to easily believe in others, lack of responsibility, near-sighted and only paying attention to the present. Also, they are not good at money management.

The pig people born in different periods of a day have different personalities and fortune:

The Pig people born in the morning are moody, mercurial, look like brave but reckless. When dealing with affairs, they usually do pushily without careful consideration. So, they are always driven from pillar to post and get no result. Due to this character trait, their path through life is mostly hard. To change the fortune, the best policy is, to look before you leap.

The Pig people born at noon have the fighting spirit as the wild boars. Once there are opportunities, they will have courage to do. So it is easy for them to get good luck and gain fame and fortune. However, they are likely to lose heart and have no appetite for the fight when encounter obstacles. Ask for help from others will be helpful to bridge over difficulties. The men are of great enthusiasm in love and work. The women are lively, quick-witted and helpful. They are usually ideal housewives and capable assistants in career.

The Pig people born during the evening usually have a strong sense of self-centeredness. They would like to do things confidently and full of valour and vigour. These make them fit to be leaders. However, they are easily to act in disregard of other people's opinions due to too much self-confidence. The women are usually intelligent to be perfect secretaries. In house works, although sometimes they only act upon their own judgment, they can still be good housewives.
Relationship Compatibility for the Pig
In terms of relationship with the people under other animal signs, the Pig people can live happily with the silent Rabbit and steady Sheep; live in harmony with the people born in the year of the Tiger; cooperate well with the Rat, Ox, Dragon, Horse, Rooster and Dog persons. However, they couldn't relate well to the other Pig people. Also, for them, it's hard to deal with the Snake and Monkey, as they are too smart and cunning.
Find your compatible zodiac signs according to your month:
| Birth Month of the Pig | Personality of the Pig | Girl's Match | Boy's Match |
| --- | --- | --- | --- |
| Jan. | straightforward | Rabbit | Snake |
| Feb. | over economical | Tiger | Rabbit |
| Mar. | emotional | Dragon | Tiger |
| Apr. | motivated | Tiger | Snake |
| May. | independent | Ox | Horse |
| Jun. | sentimental | Monkey | Snake |
| Jul. | indolent | Horse | Sheep |
| Aug. | be in high spirits | Tiger | Sheep |
| Sep. | be over concerned with things | Rat | Sheep |
| Oct. | optimistic and open minded | Tiger | Sheep |
| Nov. | unclubbable | Horse | Monkey |
| Dec. | decisive | Tiger | Sheep |
Horoscope for the Pig in 2014 (Fortune Foretelling)
2014 Fortune Ranking among the 12 Animal Signs: No. 9
Overview: According to the
2014 Chinese Horoscope
, after last year's ups and downs fortune, 2014 (
the year of the horse
) turns to be better for the people under the animal sign of the Pig. Although the career and wealth opportunity shows pretty good in 2014, it will still be challenging. You may get lost if you deal things in a wrong way. Especially for the pig born in the year of 1971 and 1983, tread with caution in your work or business. Remember never slack off; work hard to strive for good chance and achieve what you want.
Love: Love life will stay smooth if you can get along well with your loved one. For the married, avoid arguments in daily life and care more about your family members. If you are single, you will be more active in social activities and find your love in 2014. Peach blossom might emerge in October (Chinese lunar month).
Career: In 2014, to the Pig officials, the career opportunity will be pretty good in terms of invest besides work. But don't affect your official work because of your business. For ordinary people, in work, you might encounter problems in autumn. Also you would encounter some little trouble occasionally. Never be discouraged, seek help from the people around, you can get good result.
Wealth: The Pig person may have prosperous wealth this year, but might lose some money if can't handled it properly. You'd better spend money carefully instead of casually. Do best to help the poor; you may get some unexpected returns. 2014 is a good year for you to invest, but make a proper plan and study the market are important to guarantee a success.
Health: The physical condition would be good in 2014. However, overindulgence in food and drink will harm your health. So watch your diet. Do more outdoor exercises and travel especially in autumn are good for your health. The children should avoid swimming without the parents' accompany. The seniors should less in sugar in diet and keep the good habit of exercising. When driving, take great care of the safety and avoid strenuous exercise to hurt yourself. As long as you concern about your health well, the Pig people will be fine this year.
Note: The above
2014 Chinese horoscopes prediction
is based on people's birth year and the ancient Chinese astrology. It's just for your reference only.