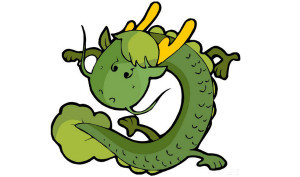 * The prediction is valid for 2017 (
year of the Rooster
) starting from January 28, 2017 and lasting to February 15, 2018.
Overall Rating:
Entering into 2017 which is the year of the Fire Rooster 'Ding You' (丁酉), you Dragon people will have significantly improved fortune and you may get great development in both love and career since rooster and dragon are compatible with each other in Chinese zodiac; you Dragons will be bound to have good fortune in 2017. During the year, you should try to expand your vision as far as possible and never limit your activities within a small scope but take a broad view to seize more opportunities. In 2017, you will be blessed by two auspicious stars, namely Longde (龙德) and Ziwei (紫薇), which suggests that you will have good fortune in both career and wealth. However, you should beware that you will be affected by the inauspicious stars like Posui (破碎), thus easy to provoke villains, so you should pay special attention to it and never act on impulse to meddle in others' business, or you will be in troubles.
Astrology Elements in 2017
Auspicious Direction: North, Southeast, Southwest; Avoid: Northwest, West
Lucky Colors: Yellow, Red, Orange; Avoid: Cyan, Green
Lucky Numbers: 2, 9
Helpful Zodiac Signs: Monkey, Rooster, Rat; Harmful Zodiac Signs: Rabbit, Dog, Dragon, Ox
Auspicious Direction for Love: Southwest
Auspicious Direction for Wealth: North
Auspicious Direction for Study: South
Auspicious Direction for Career: East
Rating:
Blessed by the auspicious stars Longde and Ziwei, you people under the Dragon sign will have stably improved luck in wealth; whether you are a company employee or a businessman, you will have excellent performance in 2017. If you do work for others, you will be surely recognized by your superior or boss and get a raise or bonus once you work hard and prove yourself with excellent performance and data. You businessmen will have even better luck in wealth and get much more profits than last year; with the help of others, you will have more opportunities to develop new customers and new markets. However, you should not gamble or speculate; otherwise, you will lose both money and lover. In 2017, the lunar August (September 20 – October 19 in Gregorian calendar) is the month of Tai Sui, which will be compatible with you Dragon people and benefit your luck in wealth; if you do work for others, you can invest appropriately to try your fortune; you businessmen should seize the moment to make great deals. Under the influence of the inauspicious star Baobai (暴败), however, you will spend a lot in the year, even the daily living expense will cost you a lot.
Rating:
In 2017, you Dragons will have new opportunities and breakthrough in career. During the year, you will be quick-minded and think more actively, thus have high work efficiency and highlight your talents. You workers will be assisted by your superior or the elder, so you should strive for good opportunities and make efforts to show your personal ability. Despite the busy work in the year, you'd better improve your professional knowledge and study further at your spare time, which will surely benefit your future career development. If you are intended to start a business, 2017 will be a good time. You businessmen will be helped by others, thus the year is profitable but you should unite the employees. If you plan to expand your business, you should carry out the plan in spring and summer because autumn and winter are only suitable for holding on.
Rating:
Generally, you will have stable and little improved fortune in terms of love relationship. Since everything goes smoothly, you will be in good mood all the year round, which will affect the whole family and marriage life. You married will enjoy peaceful family and harmonious marriage life; the family formed by the rooster and the dragon, in particular, will have even better fortune and luck in wealth. However, you male Dragon should not be impulsive in getting along with your wife but be tolerant to avoid marriage crisis or divorce.
You singles will be more active than previous years and you will always stand out in parties and social occasions, thus you should grasp the opportunity to find the right one.
For you Dragons in love, you will live a sweet life and you may consider getting married since your zodiac sign is compatible with Tai Sui.
Rating:
Due to the existence of the inauspicious star Tiane (天厄), you will hardly maintain the stable health in 2017. To be simple, you may easily have minor illness or disaster, and suffer lingered cold or fever which is seemingly not serious illness, but may cause health hazard, thus you should pay attention to it. In addition, both male and female Dragons will be prone to gastrointestinal problems in this year, so you should pay attention to personal hygiene and healthy diet, keep good sleep and dietary habits in daily life, and never be crapulent.
2017 Horoscope Forecast for Dragons Born in Different Years:
1964 Dragon
(born between February 13, 1964 and February 01, 1965)
1976 Dragon
(born between January 31, 1976 and February 17, 1977)
1988 Dragon
(born between February 17, 1988 and February 05, 1989)
2017 Horoscope Predictions for Other Signs:
Yearly Horoscope Forecast for 2016: Average
Lucky Colors in 2016: creamy white, cyan
Lucky Numbers in 2016: 3, 6, 0
* The prediction is valid for 2016 starting from February 8, 2016 and lasting to January 27, 2017.
*The Dragon people are suggested to wear a bracelet or necklace with a dragon or monkey sign to defuse those disadvantages and bring good luck in 2016.
Overview:
2016 (
year of the Monkey
) will be a smooth year in general for the people with the Chinese zodiac sign of
Dragon
. If you could grasp good chances, you are able to accomplish much. During the year, you usually could get recognition in work and are expected to get promotion with salary increase. If you do jobs like firemen, policemen, customs officials and those in management hierarchy, the year will favor you much. You could make a splendid result with your subordinates. However, you are destined to encounter many difficulties in 2016. So, you should also be prepared for the challenge. Besides, pay much attention about personal relationship and avoid contacting with those ill-tempered and unreasonable women are very important. Believe that you can head off all the danger if you could stay calm in face of disasters during the year.
Wealth:
For Dragons dealing with business, you would be lucky to get support from your customers and get more new cooperation opportunities. If you can seize the opportunity, you could get a harvest in finance in 2016. Besides, you should put some money by for a rainy day. The workers are also expected to get a satisfied salary increase in 2016. The year especially favors those people born during the autumn and winter seasons in wealth. If you were born in spring and summer periods, there may some fluctuations in financial fortune.
Career:
Fortune in career favors you in 2016. You could get paid more for doing more. If you are in army or political circles, your right is expected to upgrade. What you should prepare is the big pressure of work and also be ready for the challenge. If you plan a job-hopping, those jobs that your former colleagues or supervisors introduced can be considered. Also, in you work; you are easy to contact some savage and unreasonable female customs. So, you should learn to be more patient and tolerant to overcome difficulties. Together with the help of others, your career will be soaring in 2016.
Love Relationships:
It will be a flat year in terms of love relationship for the Dragons. For you married couples or in love, you can get on well with each other. However, you may think less about emotion and neglect your partner because too much concentration on career. So, you should balance the two thus avoid affecting your relationship. For the single Dragons, you may stay where you are in 2016. You would rather spend more time on career than on the pursuit of love. For the male singles, you may easy to meet a girl who has a strong personality. Whether to stay with her needs your careful consideration.
Health:
In physical aspects, you will be generally ok in the year of monkey. However, you are likely to get hurt and have marine risks. So, be careful enough when doing outdoor exercise. Also, you have got to be doubly careful when surfing, boating or engage in other water activities. It's also suggested to avoid touching animals as you are easy to be bitten hurt this year. Besides the physical health, you should also pay much attention on your mental health. You may suffer emotional instability or nervous breakdown and have a poor quality of sleep because of your heavy work. So, remember to have more time getting in touch with nature and some sports to help relieve pressure.
Note:
The above Chinese horoscopes prediction is based on people's birth year and the ancient Chinese astrology. It's just for your reference.