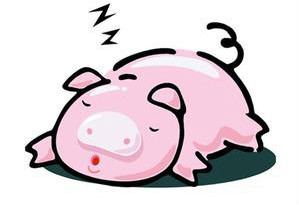 * The prediction is valid for 2017 (
year of the Rooster
) starting from January 28, 2017 and lasting to February 15, 2018.
Overall Rating:
In the previous year, you people under the zodiac sign of Pig had clash with Tai Sui (the deity in charge of people's fortune in the year); in 2017, you will get improved luck but still need to face the impact of bad luck and have great limits in terms of love, career or wealth acquisition. That is because you are affected by too many inauspicious stars in 2017, under the influence of which you will find it's difficult to develop the interpersonal relationship and your relatives may pass away or fall ill; your health will be under threat and you may have disputes with others.
Astrology Elements in 2017
Auspicious Direction: Northwest, Southwest, North; Avoid: Southwest, Southeast
Lucky Colors: Yellow, Brown, Red; Avoid: Black, Blue
Lucky Numbers: 1, 6
Helpful Zodiac Signs: Rabbit, Sheep, Rooster; Harmful Zodiac Signs: Monkey, Snake, Pig
Auspicious Direction for Love: North
Auspicious Direction for Wealth: South
Auspicious Direction for Study: West
Auspicious Direction for Career: Northeast
Rating:
You will not have good luck in both work income and windfall. All sorts of problems in career will directly limit your income while the declined income will in turn affect your career development. In this way, you have to live frugally as a result but will not go bankrupt. Your investment will not go smoothly, so you independent entrepreneurs shall keep an eye on the changeable market and never do the business on too large scale to avoid capital chain rupture; under the influence of inauspicious stars, your family will be prone to health problems, so you'd better be prepared with a sum of money. Also, you should guard against being deceived in telephone, network and other forms.
Rating:
Generally, you Pigs will not have good luck in career. Under the influence of inauspicious stars, you will easily offend your superior, thus suffer from the difficulties and pressure created by the leader and hard to get promoted. If you can dissolve the misunderstanding with your leader and coupled with the help and direction of the benefactor, you will make some achievements and get certain development in career. This year is suitable for you to study or get further education, during which you can better understand the problem and put into practice for the obstacles met in work. For you workers, this year is not suitable for you to change a job; if you change a new job rashly, you cannot adapt to it in a short time and your ability will be questioned, so you should be well prepared before changing a job. In addition, you will travel a lot in this year but the existence of other inauspicious stars will make it hard for you to make the decision of going to other places for development. If you are determined to focus on the development in other places, however, you will have good opportunities.
Rating:
You will have very bad luck in love and find it's hard to develop the fortune with the opposite sex or the benefactor. If you are single, you will be unlikely to find the right one and have no mood to start a new relationship due to the influence of external environment; although you will meet many opposite-sex friends around, they are not the right one because of the relatively large gap between you in terms of age, condition and personality. You married will have relatively good luck in love relationship and have no need to worry about a third party due to the bad luck with the opposite sex; what's more, you Pigs are gentle, so you will become reconciled quickly from the quarrels.
Rating:
In the first half year, your body affected by clash with Tai Sui in the previous year has not recovered, thus have poor resistance and suffer from the stomach disease in last year. Therefore, you should take light, nutritious and healthy diet. In the second half of the year, however, your health will be improved, thus not so prone to illness. Besides, you will be more likely to go out due to the influence of the inauspicious star Yima (驿马), so you should be more careful while out of home, avoid high-risk activities and pay more attention to food hygiene. In addition, you should pay more attention to the physical condition of the elders in your family, especially the elders who have a poor resistance, often fall sick or have chronic disease.
2017 Horoscope Forecast for Pigs Born in Different Years:
1971 Pig
(born between January 27, 1971 and February 24, 1972)
1983 Pig
(born between February 13, 1983 and February 01, 1984)
1995 Pig
(born between January 31, 1995 and February 18, 1996)
2017 Horoscope Predictions for Other Signs:
Yearly Horoscope Forecast for 2016: Bad
* The prediction is valid for 2016 starting from February 8, 2016 and lasting to January 27, 2017.
Lucky Colors in 2016: purple, gray, win red
Lucky Numbers in 2016: 1, 5, 9
* The Pig people are suggested to wear a bracelet with a pig sign or donate blood to defuse those disadvantages and bring good luck in 2016. Pi Xiu which is a Chinese mythical wild animal that could drive away evil spirits is also suggested to wear during the year.
Overview:
On average, the people of Chinese zodiac sign of the Pig will face many challenges in life which require you to march forward courageously in 2016 (
year of the Monkey
). Compared with the fortune during 2015 (
year of the Sheep
), you will be luckier. You can get support from some powerful social contacts and be recognized with ample rewards in work. Many fortunes would also find their way to you. However, in 2016, the Pig will harm Taisui who is the legendary God in charge of people's fortune. So, you will clash and be incompatible with Taisui thus unavoidably having some changes and bad luck in some aspects. This can be especially reflected in personal relationships.
Wealth:
In 2016, your fortune will come into a more and more delightful stage. The businessmen could set a new aim and get support from new and previous customers thus have a nice harvest. But you should also prepare for a slight money loss. So, you are not suggested to involve in large investment. Also, it's not a good year to associate with your partner in business as you are easy to have emotional conflicts and cause some money losses. For office workers, you are expected to have an income increase this year. But you should avoid venturing large sums of money on speculative stocks. Some conservative investments are advised.
Career:
You could have a clear goal and direction at the same time a high spirit in work during 2016. You can earn the admiration by the elders and superiors. However, there are some underlying apprehensions in your personal relationship with contemporaries. This can be the dissatisfaction or jealousy of colleagues caused by your highly thought from superiors. Therefore, you should keep humble and cautious during the daily life. Never over show your ability in case to get envied by others.
Love Relationships:
In general, your personal relationship will go backwards in 2016. You are easy to conflict with family members or friends. So, during the year, you'd better avoid meddling in their affairs. Relations for the married couples may be affected by the third person's involvement. If you are solo, you will have chances to start a new relationship.
Health:
In the year of Monkey, there will be no big problem with your physical condition except some minor illness. What you should take great care is the digestive system problem. So, you should avoid surfeiting yourself and keep a regular life during the year. Also, you'd better avoid participating in those vigorous and dangerous exercises as you are easy to get hurt in the year.
Note:
The above Chinese horoscopes prediction is based on people's birth year and the ancient Chinese astrology. It's just for your reference.
good lucky charm for pig 2017 (1 Reply) Asked by mary grace lumingkit | 1/20/2017 4:14:13 PM