Monkey Horoscope 2017 Predictions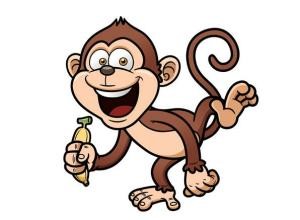 * The prediction is valid for 2017 (
year of the Rooster
) starting from January 28, 2017 and lasting to February 15, 2018.
Overall Rating:
In the year of 2017, you people under
the animal sign of Monkey
finally can breathe a sigh of relief because you have had a difficult year in 2016 and bad luck in various aspects due to the fact of conflicting Tai Sui (the Grand Duke Jupiter), thus have consumed most of your energy. Fortunately, the situation will be improved in 2017 and your luck will change completely. Due to the blessing of the auspicious star Hongluan (红鸾), you will have significantly improved luck in a new year and Hongluan will bring you good luck in love relationship and benefit your luck with the benefactor in terms of career and wealth. Therefore, you should brace up to greet a new year with improved luck.
Astrology Elements in 2017
Auspicious Direction: North, Southeast; Avoid: Northwest
Lucky Colors: Yellow, Beige; Avoid: Red, Pink
Lucky Numbers: 1, 9
Helpful Zodiac Signs: Rat, Dragon; Harmful Zodiac Signs: Pig, Tiger, Snake, Monkey
Auspicious Direction for Love: West
Auspicious Direction for Wealth: East
Auspicious Direction for Study: West
Auspicious Direction for Career: South
Rating:
Just relieving from clashing with Tai Sui, you Monkeys will have obviously better luck in wealth than the previous year. Although you will be unlikely to have large income, your wealth will be stable, especially the income from work. The steady job will be more suitable for you in this year and you may get stable income as long as you work carefully. You workers will have good luck in wealth and the work of you national civil servants with fixed salary will go smoothly; you may encounter some difficulties in work, but finally you will solve the problems in time. For the sales personnel, you will sweep away the bad luck in last year and get slowly improved performance. If you are a boss, it is important to note that you should invest and loan out of your own practical situation. For entrepreneurs, you should keep a good relationship with subordinates; otherwise, you will suffer from a resignation wave, making the company cannot operate properly due to the lack of staff. You'd better be an onlooker in terms of investing and never invest rashly to avoid loss of wealth.
Rating:
In 2017, you Moneys will have improved luck in career. Under the influence of the meeting with your animal year, you Monkeys have encountered many problems in work in the previous year; fortunately, you will have improved interpersonal relationship under the blessing of the auspicious star Hongluan, so you will not work alone but get help from colleagues, friends and family members, thus more likely to have a new development.
It is worth mentioning that despite the blessing of auspicious stars, you will also affected by the inauspicious stars, such as Bingfu (病符) and Wangshen (亡神) which will have quite obvious influence on you. Wangshen will mainly affect your mood and to be simple, it will make you Monkeys prone to have wrong career decisions and judgments, leading to the complete change of the originally normal development speed. Therefore, stabilizing your attitude and treating your career development correctly will be very important. Also, they are the simplest ways to avoid losses.
Rating:
Hongluan Star itself is an auspicious star in charge of people's marriage and love, so you Monkeys under its blessing will have very good development in love relationship. Specifically, your interpersonal relationship will have a great change and the added opposite-sex friends will improve your luck with the opposite sex. If you are single, you can give yourself a free hand to pursue the beautiful love belonging to you. If you are in love, you may choose a lucky day to hold a wedding ceremony. If you are married, you will live a smooth marriage life and have no serious problem despite some quarrels.
Under the blessing of the auspicious star Hongluan. However, you will be affected by the inauspicious star Guasu (寡宿), so you female Monkeys will suffer from long-term separation despite the good relationship with husband. You single female Monkeys will tend to be high-hearted, which will indirectly weaken your charm; you female Monkeys in love will always separate with your boyfriends due to the frequent business trip or social engagement. Fortunately, the damage of Guasu will be restrained due to the blessing of Hongluan.
Rating:
Health will be the most important problem for you Monkeys in 2017. You will have bad luck in health in the first half year but the situation will be improved in the latter half of the year. In the previous year, you Monkeys clashed with Tai Sui and had a poor health due to the influence of the inauspicious star Bingfu but the situation will be improved in the year of Rooster, during which you will have improved interpersonal relationship and good mood, thus more vigorous. With the overall improved good luck, you will have fewer chances to have accidents but still need to beware of food safety. You will have more social engagements requiring drinking, so you should keep an eye on stomach diseases. Under the influence of the inauspicious star Tiangou (天狗), you need to pay attention to body injury and traffic safety while driving.
2017 Horoscope Forecast for Monkeys Born in Different Years:
1968 Monkey
(born between January 30, 1968 and February 16, 1969)
1980 Monkey
(born between February 16, 1980 and February 4, 1981)
1992 Monkey
(born between February 4, 1992 and January 22, 1993)
2017 Horoscope Predictions for Other Signs:
Astrology Elements in 2016:
Lucky Colors: Light blue, Vermillion, White
Lucky Numbers: 4 and 6
Lucky Direction: West
Avoid Direction: Southwest
Charm: Bracelet or necklace (like Jade, Garnet, Rock Crystal, Citrine, Rose Quartz, Amethyst, Red Agate or Aquamerine) with a silver pendant of Monkey; Pixiu (a Chinese mythical wild animal that could drive away evil spirits)

Yearly Horoscope Forecast for 2016: Bad
Overview: 2016 is the year of Monkey. Therefore it's the zodiac year of birth (Benming Nian) for the people under the Monkey sign. People in Benming Nian are easy to offend Tai Sui who is the legendary God in charge of people's fortune. So, fortune will fluctuate during this year for you Monkeys. What you should greatly care is the health of your family and yourself as well as the home safety. Career will go quite smoothly. Many opportunities will favor you. Therefore, your career may reach the peak if you could take the chance.

Wealth: Financial is not bad for the Monkey people in 2016. You may earn a fast buck and enjoy a windfall. But you should be satisfied with what is proper and never indulge in investment, and lending and borrowing affairs. Keep in mind that to be greedy will make you poor.

Career: Career will be pretty good in 2016 for you Monkeys. Your great effort will enable you to have a successful outcome. With the constant help of magnate, you could show your ability to a full extent. Thus, the leaders usually appreciate you and may promote you to a higher office. If you plan to change a job to seek more opportunities, it's a good year. Once there is any chance to go out to work, grasp the chance. Eg. Your company plan to build up overseas markets, it's good for you to volunteer to work overseas. In all, as long as you try all effort to conquer difficulties in work and avoid doing things aggressively, you can enjoy a nice year in terms of career development.

Love Relationships: For the Monkey people in love, you are easy to quarrel with your partner which will destroy your many years' relationship greatly. If you don't marry this year, you may face the situation of departing. For those planning a marriage, you may have a difference of opinion on preparations for the wedding. For the single Monkeys, you are suggested to find your love from the people around when go out for business or travel. The married couples may divorce this year. Stay together less and leave more time to each other will be helpful to ease the contradiction between you and your partner.

Health: The monkey people should take care of yourself as your physical condition may not satisfactory in 2016. Besides, you should watch closely over the family members especially during the transition season of spring and summer. Accident may occur for you this year. So, the drivers should cheer up when driving and avoid any crash. Also, you are not fit to do water activities this year, because you are likely to have marine accident. In addition, you may suffer from the joint sprain. So, be careful when going out.

Charm: The Monkey people are suggested to wear a bracelet with a monkey sign to defuse those disadvantages and bring good luck in 2016.

Note: The above Chinese horoscopes prediction is based on people's birth year and the ancient Chinese astrology. It's just for your reference.