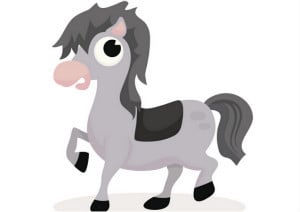 * The prediction is valid for 2017 (
year of the Rooster
) starting from January 28, 2017 and lasting to February 15, 2018.
Overall Rating:
You Horse people will have mixed fortune in the year of the Fire Rooster 'Ding You' (丁酉). Due to the blessing of several auspicious stars, you will have good luck in general; under the influence of inauspicious stars like Wugui (五鬼), however, you may have problems in interpersonal relationship and health. On the whole, you Horses will have big changes in fortune and you need be ready for the ups and downs. In this year, you should adjust your mental state and be optimistic in the face of failures to learn a lesson, but you will solve the problems readily with the help of others. You should not be complacent in the face of success; otherwise, you may be framed by villains once you are not careful and bring obstacles and losses to your work and life.
Astrology Elements in 2017
Auspicious Direction: Northeast, Northwest, Southwest; Avoid: North
Lucky Colors: Cyan, Red; Avoid: Black
Lucky Numbers: 2, 7
Helpful Zodiac Signs:
Sheep
,
Tiger
,
Dog
; Harmful Zodiac Signs:
Rat
,
Ox
,
Horse
Auspicious Direction for Love: West
Auspicious Direction for Wealth: West
Auspicious Direction for Study: East
Auspicious Direction for Career: North
Rating:
In 2017, you will have great change in job and may experience two extremes. Due to the blessing of several auspicious stars, you will be helped by others and get new cooperation opportunities once you work hard, innovate and open up markets actively, and widen the interpersonal network. If you don't work hard but hitch your wagon to a star, you will be prone to disputes and cannot get breakthrough in work or move a single step in the company under the influence of the inauspicious star Wugui.
You'd better work more and talk less in this year, and never become arrogant even if you make outstanding achievements in work rather than share the achievements with the team to avoid being envied by others. You should be prudent for the decision of changing a job because the duties and salary of the new job may inferior to the current one due to many unforeseen circumstances in the year. However, this year is suitable for you Horses to go out and you may win over the opportunity of going out for investigation or taking a business trip, from which you will get new information and new opportunities.
Rating:
Due to the good luck in career, you will get more opportunities to make money and save more. However, you have to face the situation of buying peace due to the existence of the inauspicious star Juanshe (卷舌), coupled with the inauspicious star Pima (披麻) which will lead to the illness of you and your family, requiring a certain amount of money to solve.
In this way, you Horses will get wealth easily but also suffer serious financial loss, thus it's important for you to save money in a better way. Besides, you are not suggested to make high-risk investments or take out loans.
Rating:
In 2017, you will have quite good luck with the opposite sex, but most of which are unfavorable. You Horses will have good luck in interpersonal relationship and you will meet different types of opposite sex in work and life. If you are devoted to love, you will be able to find the right one.
For you Horses in love or married, you should pay attention to the relationship with your lover, communicate with each other more and consider more for each other; otherwise, you will quarrel with each other easily and face marriage crisis after the accumulation of problems. It is important to note that you Horses will meet different opposite-sex friends due to the good luck with the opposite sex in the year, and you may attract and appreciate each other after the frequent communication, so you should beware of the extramarital affair out of acting on impulse and treat your emotion and marriage carefully.
Rating:
You Horses will have poor luck in terms of health and you should pay special attention to the health of yourself and your family. If you have old illness, you should check regularly to prevent it from recurrence. You senior Horses may suffer from arthritis, cervical spondylosis or other common senile diseases; it will be difficult to avoid catching a cold and having a fever once the weather changes. Fortunately, most of the problems will be solved under the blessing of auspicious stars.
2017 Horoscope Forecast for Horses Born in Different Years:
1966 Horse
(between January 21, 1966 and February 08, 1967)
1978 Horse
(between February 07, 1978 and January 27, 1979)
1990 Horse
(between January 27, 1990 and February 14, 1991)
2017 Horoscope Predictions for Other Signs:
Yearly Horoscope Forecast for 2016: Average
Lucky Colors in 2016: dark green, silver
Lucky Numbers in 2016: 3, 5, 7
* The prediction is valid for 2016 starting from February 8, 2016 and lasting to January 27, 2017.
* The Horse people are suggested to wear a bracelet with a horse sign to defuse those disadvantages and bring good luck in 2016. The people under the Sheep sign would be your great helper this year.
Overview:
Fortune for the Horse people will be smooth and steady in 2016 which is
year of the Monkey
. The year especially favors those Horses who usually go outing. So, if you have chances to go out for business or stay abroad for work, try your best to grasp the opportunity. During the year, your status and rights are expected to rise. Thus you would have more time spending on social activities. In love relationship, you may start a long-distance relationship. The singles are suggested to keep your eyes on the people around when traveling or go outing. If you can participate in more festive events, your fortune would be much better. Besides, you should also prepare for a busy 2016 and many challenges are waiting you.
Wealth:
What you Horses should remember in 2016 is that only changing and moving could help you make a good fortune in wealth. If you are businessmen, try to build up overseas markets. Also, don't cooperate with others if you can do it by yourself. Or there may financial losses. Consider buying overseas property, foreign stock or purchasing foreign currency is suggested. For wage earners, travel on official business would good for your financial fortune. What's more, the Horses may spend a lot of money for moving, decoration, etc. in 2016. So, you need to prepare some money for unexpected needs.
Career:
Careers will be steadily rising in 2016. You would have a harmonious interpersonal relationship with colleagues, supervisors and subordinates. If your work needs frequently go outing, you would be lucky this year. If don't, you are suggested to apply for job relocation to other places. This would be good for your career development. However, think twice before you do if you have any intention to change the job as it may turns to be unsatisfactory after changing.
Love Relationships:
You would stay where you are in terms of love relations. For the married couples, you could get along well with your partner. But you may often separate two places as you go out for business frequently this year. The single Horses are most indifferent to the pursuit of love and focus more on career development. While, you have more chances to meet your love when in other areas or regions. Also, you would have more opportunities to take part in social activities. This will enable you to make a lot of friends and meet your satisfied partner.
Health:
In 2016, you are easy to meet unexpected accident or danger. So, besides carefulness, you should pay more attention to weather changes and situations like flight delay. Also you'd better avoid engaging in those high risk activities. As you may usually go to other places, you may not be acclimated to the new place. So, make good preparations before you go. In addition, join in more happy occasions could help to improve your physical fortune.
Note:
The above Chinese horoscopes prediction is based on people's birth year and the ancient Chinese astrology. It's just for your reference.